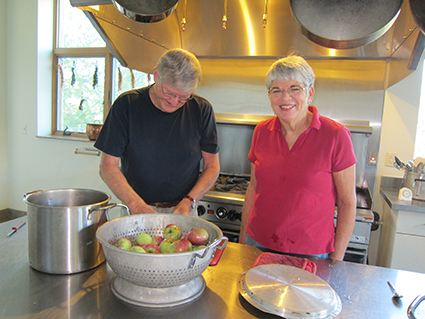 Sara Whalen (right), with the help of her husband John, makes applesauce for the Holiday Fair from the apples she picked at a volunteer Community Workday.
Sara Whalen can literally see the fruits of her labor in the apples that she picked in the monastery orchard during the volunteer Community Workday on September 21, 2013. A few days later, Sara and her husband John volunteered in the monastery kitchen turning the apples into applesauce to sell at the Holiday Fair and Angel Tea on November 10, 2013 from 12:00-3:00 pm.
Sara has helped with the fair since she and John joined Sunday Assembly two and a half years ago. "Soon after we joined Holy Wisdom I was invited to help with the first Holiday Fair and Angel Tea. I guess it had become known that I was a baker, so I was asked to coordinate the bake sale," Sara explains of her early involvement with the monastery.
Because the bake sale is more than baked goods, Cathy Nelson, a Sunday Assembly member, and Sara made applesauce with apples from the monastery orchard along with pickles to sell at the first fair. This year, 24 pint jars of applesauce will be available for sale. The Holiday Fair and Angel Tea is a fundraiser for the monastery sponsored by Sunday Assembly members.
Sara helps out in the kitchen with monastery chef Barbara Wright during large events when extra hands are needed. "I enjoy seeing how the events help to bring in others in the community so that they can experience the place that has become important to me," Sara says.
Picking apples and collecting prairie seed during the volunteer Community Workday were Sara's first experiences volunteering outdoors. She said she was especially pleased to meet many new people, some who are associated with the monastery and some who had never been here before and came to help on a beautiful fall day.
"It didn't feel like it was a task to be dreaded, but that I was participating in the cycle of the seasons," Sara says. "While I felt appreciated, what I experienced was appreciation for the spiritual home we have found since coming to Holy Wisdom and Sunday Assembly. I do see that there is a real need for volunteers at Holy Wisdom and have always felt it was satisfying to do the work."
Have a few hours a week or month to volunteer your time and talents at Holy Wisdom Monastery? Visit our website to learn more.