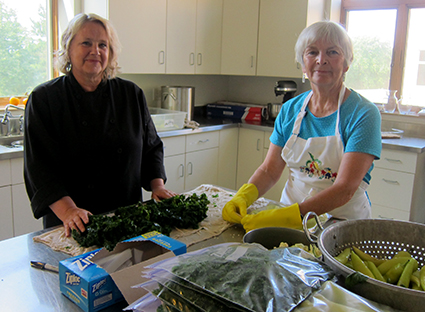 Peg Davey (right) helps chef Barbara Wright prepare veggies for freezing. Peg volunteers in the kitchen when large groups are at Holy Wisdom.
Since January, 2013, Peg Davey has been helping monastery chef Barbara Wright when there are large groups and special events.
"I've particularly enjoyed being a part of some very special events at Holy Wisdom. Several examples are the breakfast for over 200 in February when Sister Simone Campbell of "Nuns on the Bus" spoke at the Interfaith Coalition for Worker Justice annual gathering, a wonderful buffet dinner accompanying a concert by the Bach Dancing and Dynamite Society and multiple meals Barbara prepared for the recent Barbara Marx Hubbard retreat," Peg says.
Peg also helps Barbara catch up after a big event and with processing produce from the garden. "I have done everything from washing dishes and cleaning refrigerators to setting up the dining room and buffet line, freezing kale and banana peppers, baking cookies and baklava and making salads (under Barbara's direction, of course). When I come in, Barbara gives me options of different tasks I can work on. I respond, "Tell me what you need now!"
In August, Peg soloed in the kitchen while Barbara was away on vacation. She met the caterer, set out the food and let the caterer know they were overloading us with green salads and bread. "I knew that the food service was in very capable hands while I was away," Barbara says.
While most of Peg's volunteering has been in the kitchen/dining room, she has helped out at Community Workdays and looks forward to more of that kind of volunteering. "I enjoy walking and skiing on the various trails and attempting to identify the birds and the wonderful variety of trees along the way."
Barbara and Peg were neighbors before either were involved at Holy Wisdom. "Chef Barbara is a tremendously talented and creative cook, activist and proponent of healthy foods in Madison and more broadly in Wisconsin. She is a real asset to Holy Wisdom. I enjoy my time with her, am learning from her and get satisfaction from being able to support her work."
"I strongly believe in the values Holy Wisdom embodies—ecumenism, inclusiveness, social justice, care of the land, community. My husband, Tom Zanzig, is an oblate and becoming more and more involved in the community. I welcome the opportunity to be part of the Holy Wisdom community, too!"
"I look forward to my time at Holy Wisdom. It's a beautiful, peaceful place where people with shared values can come together and pursue their spiritual paths in a variety of ways. You meet interesting, engaged people here, and the sisters and staff make it clear that volunteers are valued members of the community."
For more information on how to volunteer at Holy Wisdom Monastery, visit our website.