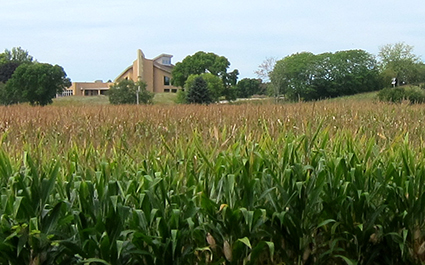 Prairie land and oak savannas greatly reduce phosphorous runoff into our lakes, as compared to agricultural land. The newly acquired land (above) is currently planted with corn.
It's seemingly a quiet time of the year on the prairie. The phone call and email inquiries about the parcel the sisters purchased in September 2012 have gone the way of the birds for the winter. However, the Wisdom Prairie Project fundraising efforts continue, despite the long winter months.
As of this issue of Benedictine Bridge, we have raised over $1.5 million on our way to the $1.9 million goal to help cover both the acquisition and restoration costs of this parcel. Thank you to all of our generous supporters! If you are interested in learning more about the project or making a donation, please visit this webpage for a 5-minute video orcontact me at 608-836-1631, x124.
With the help of the staff at Dane County's Land & Water Resources Department, we were able to calculate the impact of converting this farmland to prairie. They estimated that it will deliver a 110 pound reduction in the amount of phosphorous that ends up in Lake Mendota. A general rule of thumb is every pound of phosphorous that ends up in our watershed translates into 500 pounds of wet algae. This means that once this parcel is converted to prairie and oak savanna, we will see a reduction of 55,000 pounds of wet algae in Lake Mendota from this parcel.
We are also seeing sponsorships come in to support the art exhibits (opening receptions on May 2 and October 3) and Prairie Rhapsody benefit concert (June 19). All proceeds from these events will benefit the Wisdom Prairie Project this year. If you or your company are interested in becoming a sponsor of these events, please let me know.
Dane County approached us in January and is interested in making a significant donation of prairie seed to complement the donation of prairie seed given to us by Ron Endres in November 2013. Between these two generous donations of about 75 species of seed, we estimate that we have enough to plant over 20 acres of prairie in November. We have set aside the Saturday, November 1, 2014 Community Workday (click here for complete schedule or to register online) to plant prairie seed in both the morning and the afternoon. If you are interested in remaining informed about this workday, please contact Jill Carlson or me.
The formation of the Friends of Wisdom Prairie also continues to progress. The Friends of Wisdom Prairie Council has been formed and is meeting regularly to determine things like benefits of membership, scope of projects and activities, and membership levels and dues. For more information on the Friends of Wisdom Prairie, please contact Greg Armstrong at 608-836-1631, x123.
The year 2014 promises to be a big year in the development of the Wisdom Prairie at Holy Wisdom Monastery—and the necessary fundraising that comes with it to make it all happen. We hope you will be a part of it!