From Benedictine Bridge, November, 2014
– featuring Ron Endres,
  a founding member of the Friends of Wisdom Prairie Council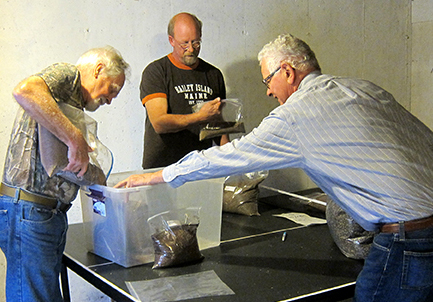 Ron Endres (center), Will Mann (left), and Greg Armstrong (right) prepare seed packets for the Wisdom Prairie seeding day.
Ron Endres declines to be called a prairie expert, but he truly knows and loves native prairie culture. Ron has spent more hours than he can estimate harvesting, drying, smashing, screening, weighing, bagging and labelling prairie seed which he can provide to non-profit organizations to create new expanses of prairie habitat. ​It was his generous donation of 80-90 species and 240 pounds of prairie seeds which he collected and processed, along with additional seed donated by Dane County Parks, that made possible the seeding of our new Wisdom Prairie at Holy Wisdom Monastery.
Ron has spent many hours working on the land at Holy Wisdom Monastery. Recently he became one of the founding members of the Friends of Wisdom Prairie Council. A passion for preserving natural spaces draws Ron into many area conservation programs.
"I was attracted to the Wisdom Prairie Project because of its significant ecological impact," Ron shares. "The prairie will improve the quality of the lake and watershed, provide food and habitat for insects, reptiles, mammals, and nesting and migrating birds."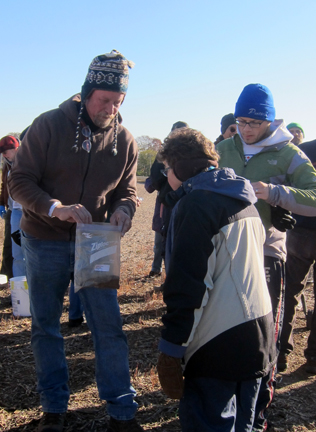 Ron (pictured here on the left) spent much of the Wisdom Prairie seeding day handing out seed, giving instructions and offering information.
A retired IT Applications Development Manager, Ron describes himself as that little boy who loved to collect rocks and insects, who grew up on the edge of Waunakee where expansive fields and woods were his playground. Retirement has provided Ron with the opportunity to return to that love of the land, and Ron shares his passion generously by volunteering for groups such as The Ice Age Trail, Dane County Parks, The Prairie Enthusiasts, as well as private conservancies like Swamplovers Foundation and Pleasant Valley Conservancy. You might see him burning, chain sawing, killing invasive species, collecting and processing seeds, planting prairies or leading other volunteer groups.
Ron and his friend Will Mann, Dane County Lands Manager and fellow Friends of Wisdom Prairie council member, have been clearing non-native trees and woody invasive species found in old hedgerows on the Holy Wisdom property. By doing this they hope to lessen the amount of weeds that can move into the new prairie and let all the prairie areas flow into one another. In the spring they will begin a regiment of prescribed burns to improve the health of the prairies.
At Holy Wisdom, Ron says, "The work of volunteers will bring about the reconstruction of a vanishing ecosystem. I wanted to be a part of that."
And we are grateful!