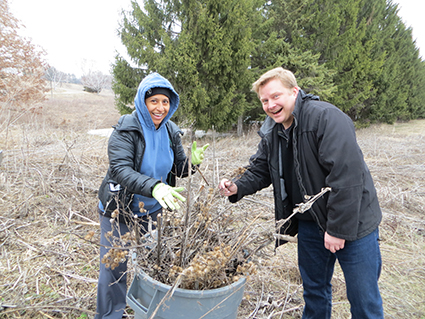 Help spring clean the prairie at an upcoming Community Workday. (Photo by Brit Cerdena)
One Saturday per month, Paul Boutwell, groundskeeper and restoration ecologist at Holy Wisdom, holds a workday so that volunteers who enjoy helping on the prairie and grounds or with cleaning tasks can provide help.
Held April through November, the day starts out at 8:30 am when participants meet in the monastery gathering area. Introductions and a synopsis of the tasks to be accomplished are shared. If participants wish, they can start the day with community prayer at 8:00 am on the lower level of the monastery building.
Paul asks for people who are interested in helping on specific projects such as splitting wood or washing monastery windows. Then the rest of the group heads out to the prairie and grounds to remove invasive species and other weeds, paint, prune trees, pick apples or complete one of many other tasks.
At 11:45 am, the group returns to the monastery to get ready for lunch which is served at noon. Barbara Wright, monastery chef, prepares a nutritious meal that all workday volunteers are invited to enjoy. During lunch conversation ensues as volunteers get to know each other better and talk about the things they accomplished that day. The workday is completed after lunch around 12:45 pm.
Community Workdays for 2014 are Saturdays:
April 5
May 3
June 7
July 12
August 2
September 6
October 11
November 1
Register online one day before the workday(s) of your choice at benedictinewomen.org/wisdom-prairie-workday-registration/