On August 15, 2012, we welcomed Nancy Melin and Linda Steg, our first two Benedictine Sojourners, to Holy Wisdom Monastery. They live with the sisters, take part in the prayers and meals. They participate in our work about thirty hours a week in guest services or in the garden. Three afternoons a week we offer classes in Benedictine spirituality and the spiritual life. The Sojourners also have time for reading and leisure activities. The sisters provide room and board, a monthly stipend, medical insurance for those who need it and pastoral care. The Sojourners bless us with their energy, enthusiasm and willingness to learn and grow in the spiritual life.
I interviewed Linda and Nancy recently about their experience so far. The following is an excerpt from that interview.Lynne: Tell me a little about yourself.
Linda: I have been a nurse for over thirty years. I am from Omaha, NE. I have two grown children and a grandson turning twelve next month.
Nancy: I was born in Champaign-Urbana, IL, and raised there most of my life. I moved away and lived lots of different places and came back. I went to college there, studied massage therapy in Santa Fe, NM in 1984-85 and have worked as a massage therapist for about 29 years — mostly doing energy work and what's called craniosacral therapy in the last several years. I started working as a cook when I was 18 and I went to college when I was 25. I traveled around working as a cook and lived a lot of different places. I enjoyed that very much.
Lynne: What were your goals for your time as a Sojourner?
Linda: My goals were to be able to have an experience that included a disciplined prayer time. I filled out an information form on the Catholic Volunteer Network and a month later received an email from Ann Moyer asking me to look at Holy Wisdom's website. When I did, all of my goals matched up with what the monastery was all about.
Nancy: I came with the intention to learn about living in community, learning about living Benedict's Rule today, living Benedict's way of living in community, getting along with others, playing well with others, and also growing spiritually, closer to Christ. That's been my intention most of my life.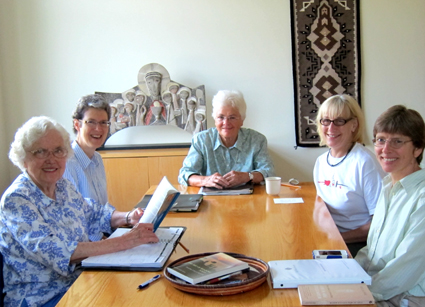 Nancy Melin (far right) and Linda Steg (second from right) join the sisters in a chapter meeting.
Lynne: What have you valued most so far about the experience?
Linda: Getting to know the community, spending time with them. I'm really honored that Sojourners are allowed in the [sisters'] chapter meeting where people have not been allowed before. [Note: At our morning chapter meetings we read and reflect on a spiritual book and then share our schedule for the day.]
Nancy: I'm growing and learning much faster than I expected. It's a surprise for me how much spiritual growth and personal growth I'm getting — of course I have the intention of being open and available for God to work in me. Being here fosters that opportunity for spiritual growth. It's not just a beautiful place where quiet, contemplative introspection is available, but it's encouraged, it's supported. So that growth is exponentially more than I expected.
Lynne: What has been challenging so far?
Linda: An important thing I have noticed about myself is that my goal was 110% that I will not go anywhere I can't have disciplined prayer — that is a priority. And then when I got here, to feel that internal piece of me, like wanting to rebel, not wanting to go — it's like "I don't really wanna go to prayer." But I did anyway. I thought because my goal was so strong, because my heart desire was so strong to have that in my life, I thought it would all flow easily to go. To have that internal struggle — I've never experienced anything like that before, so it's interesting to see that what I want, that part of me was saying no. I went anyway, because I refused to give in to that part.
Nancy: It's taken at least a month to get my footing, to start growing new roots. And there's this transition period where you don't have so much access to the people that you relied on for your safety net and you haven't quite established this new one yet. That for me was scary because I had a family crisis during that time where a family member was very ill and could have died, so that was very difficult for me.
Also, my interactions with others, that sometimes we step on each other's toes and rub each other the wrong way, especially if we're tired or hungry, so there's some inter-personal relationship growth opportunities, too, which is part of learning to live in community.
Lynne: What has delighted you about being here?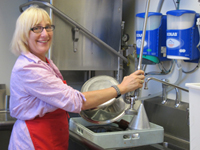 Linda: Working the dishwasher!!
Nancy: Well, I think if people could know how much fun we can have behind the monastery walls, there would be people pouring in. I was surprised how much laughter we have. Also I was pleasantly surprised at how flexible and forgiving the sisters are and all the people who are living Benedict's Rule or trying to live Benedict's Rule. I think I expected things to be a little more strict.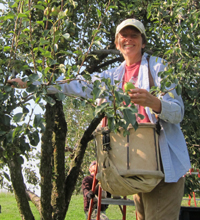 Lynne: Is there anything you would like to say to women thinking of applying to become a Benedictine Sojourner?
Linda: If spirituality is important to you and you need community to help make that a greater reality, if God opens the doors, come.
Nancy: Although the transition period is difficult, uprooting — the moving, it's hard — the benefits far outweigh the difficulties. The opportunity to let God work in us, to get closer to Christ — what's more important than that?
If you or someone you know are interested in becoming a Benedictine Sojourner, contact Sister Lynne at 608-831-9305.