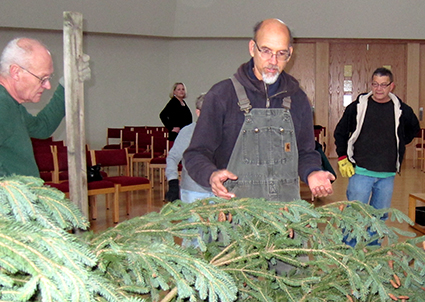 Robert Bruck (right) listens as Paul Boutwell (center) explains how the huge Christmas tree will be lifted up.
For the past four years, Robert Bruck has helped to put up the Christmas tree in the assembly room. He says he has a great employer who gives him the latitude to leave work when necessary such as when it's time to help with the tree.
Robert says that the satisfaction of being part of the greater good is what makes him volunteer here. "Time is a finite commodity and one that can be given when monetary donations are more difficult." He also volunteers during the monastery Community Workdays helping with window cleaning, painting prep and chain saw work on trees. Robert has been a Sunday Assembly member for four years.
"Volunteering at Holy Wisdom," says Robert, "is not 'expected' and the help is appreciated by all involved." He added, "Usually the Christmas tree seems too big to fit through the doors. But Paul Boutwell, (monastery groundskeeper), is the Christmas tree MacGyver of the Midwest!"