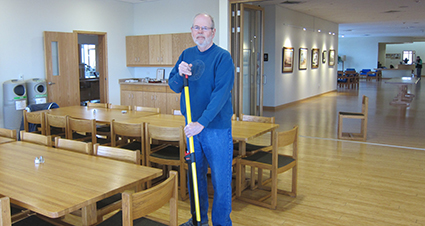 Rick Dannemiller provides invaluable maintenance help at Holy Wisdom Monastery.Providing maintenance for a 'green' monastery, the retreat and guest house, the hermitages and the sister's homes, can be an overwhelming job for the one-person maintenance department at Holy Wisdom.
In March, 2013 I began to look for a volunteer to assist the maintenance manager. Thinking it would be impossible to find a person to provide skilled help, I placed an announcement in the Wisconsin State Journal How to Help column.
I received three responses including one from Rick Dannemiller. Rick impressed me by telling me about his career as a maintenance mechanic for the Firestone manufacturing facilities in Akron, Ohio. He had also spent three years in the Army as a communications electronics repairman and trainer during what he refers to as his "Firestone adventure."
Rick started as a maintenance volunteer on April 15, 2013 and is here on Mondays and Wednesdays. On Mondays he can be found helping the monastery maintenance manager Eric Solberg and other volunteers clean the assembly room, guest dining room, community dining room and monastery kitchen floors.
Rick also works on projects as varied as reconfiguring ceiling lights with LED systems, converting toilet tanks to double-flush mechanisms and replacing towel and bath tissue dispensers. He especially enjoys working on projects where problem solving or design implications are involved.
"Rick does a fantastic job on any project that I've assigned to him, says Eric. "He offers suggestions on projects and we work very well together."
As to why he responded to the announcement in the newspaper, Rick says that he and his wife are retired empty-nesters who live within three miles of the monastery. "The commute is a brief car ride, a short bike ride or a good walk from home," explains Rick.
Rick also likes the hours and work sessions which are flexible enough to allow him and his wife to have extended vacation visits with their family in California, Massachusetts, Colorado, Ohio, Florida and Ontario, Canada.
"Everyone at Holy Wisdom is quick to show appreciation for the work that volunteers do. Eric allows me to be involved in decisions and problem solving, and he trusts and allows me to take on projects of my own."