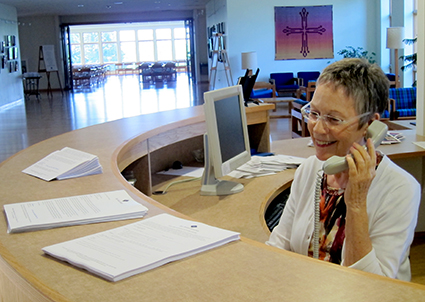 Phyllis Lobdell volunteers at the monastery front desk each week. She answers the phone, greets guests, prepares mailings and helps with a multitude of other tasks. 
On Wednesdays, Phyllis Lobdell can be found staffing the monastery reception desk where she spends five hours helping with clerical work in support of the development department.
Phyllis began volunteering at Holy Wisdom about a year ago after she moved to Madison from Illinois. "I enjoy doing simple, repetitive clerical projects because I find it to be peaceful and I know I'm helping the staff and saving them time. This type of work gives me the time to soak up the wonderful atmosphere and greet visitors who may arrive. No pressure," explained Phyllis.
"Phyllis has been a joy to get to know over the past year. She always has a positive attitude and presence at the front desk. She has probably created more than 250 folders about the Wisdom Prairie Project, and has helped us send over 1,000 pieces of mail to donors. I wouldn't be able to get as much done without Phyllis around," said Mike Sweitzer-Beckman, director of development.
In addition to her weekly volunteering, Phyllis also helps in the kitchen for special events and serves beverages at art exhibit receptions.
"The reason I moved to the Madison area was to be near the monastery and learn more about Benedictine spirituality," said Phyllis, who recently became an oblate. "Spending time here as a volunteer is teaching me more than I could have imagined. Volunteering at Holy Wisdom is an opportunity to go a little deeper."
To learn more about volunteering at Holy Wisdom Monastery visit our website.