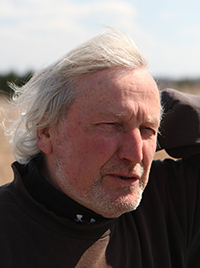 David Fisher enjoys removing invasive plants
at Holy Wisdom Monastery to keep the native
landscape thriving. Photo by Kent Sweitzer.
David Fisher has been instrumental in removing woody invasive species in the prairie for the past two years. His largest project includes removal of a 20 foot high x 40 foot long hedge comprised of honeysuckle and buckthorn, two woody invasive species which take over if left to grow. David has made this his mission and volunteered in weather extremes ranging from 5 to 100 degrees. "He works no matter what the weather is in removing invasive species," Sister Mary David Walgenbach said.

The impact that David makes helps our prairie become even more environmentally sound. "Because of the close proximity to the north shore of Lake Mendota, the prairie acts as a filter to prevent run-off from entering the lake. The healthier the prairie is the more it prevents run-off. Because invasive species crowd out the growth that we want to encourage, the removal of the invasive growth is much needed," said David.
David embodies the spirit of volunteerism by leading others. He runs his own business but still finds time to volunteer 60 or more hours per month. While he mostly works alone, he's also introduced several friends to Holy Wisdom who have pitched in to help remove invasive brush.
Our prairie attracts local prairie enthusiasts who walk our four nature trails as well as the retreat and meeting attendees who spend time here. If the prairie looked overgrown with invasive species, it would not be as welcoming and beautiful to enjoy. David's work affects all who visit Holy Wisdom Monastery.
For more information on how to volunteer at Holy Wisdom Monastery,  visit our website or contact Jill Carlson at 608-836-1631, x108.