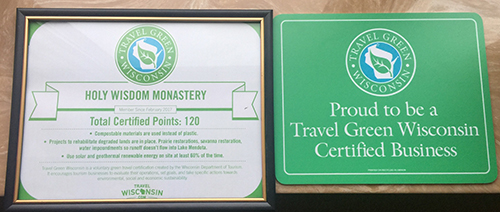 Holy Wisdom Monastery is recognized by the Wisconsin Department of Tourism
On February 28, 2017 a representative of the Wisconsin Department of Tourism presented Holy Wisdom Monastery with a recognition certificate from the Travel Green Wisconsin program. Sisters Mary David Walgenbach, Joanne Kollasch and Lynne Smith accepted the award for Holy Wisdom Monastery with many coworkers in attendance. The program recognizes and promotes organizations dedicated to sustainable practices.
In a press release Tourism Secretary Stephanie Klett commented, "Wisconsin has a longstanding tradition of conservation and Travel Green Wisconsin is an opportunity for businesses to further distinguish themselves for their sustainable practices. We applaud Holy Wisdom's commitment to making sustainability a priority to their operation, knowing the importance of doing our part now preserves our natural resources and treasures for future generations."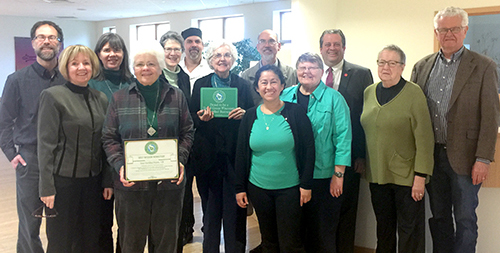 The application is 19 pages long and assesses an organization's attention to conservation practices in numerous ways including land use, energy and water conservation, education efforts, and the use of green cleaning products. Holy Wisdom Monastery received a score of 120 points on the application, the highest score the Department of Tourism representative has ever seen!
Many people over the years have been part of our mission to care for the earth, so this is really a recognition of all of those contributions. Thanks everybody!