One ministry that has breathed life into the monastery is the new Benedictine Sojourners experience. This past August, we welcomed our first participants in Benedictine Sojourners, a new ministry to share Benedictine monastic life with single women for a minimum of six months. Nancy Melin joined us from Champaign, Illinois and Linda Steg came to us from Omaha, Nebraska. It has been a delight to share prayer, lessons from the 
Rule of Benedict
, and to see them both thrive in the work on the grounds and in the kitchen. Their presence has been meaningful and we look forward to continuing to build our relationships with them and four others who have already committed to participate in Benedictine Sojourners in 2013.The Sojourners have participated in every aspect of our mission, beginning with 
prayer
. Nancy and Linda participate with the sisters and other guests in daily prayer and centering prayer. Prayer is the center of our mission and everything we do revolves around it. Our prayer schedule is posted on our website,
 www.benedictinewomen.org
, and we welcome the public to participate with us. We hope you will join us sometime.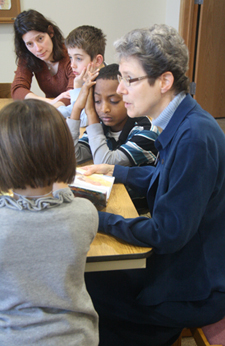 Two important communities that are central to our prayer life include the Sunday Assembly worship community and oblate community. Sunday Assembly membership grew by 57 members in 2012 to a total of 387 members (230 households). The average attendance at worship in 2012 has been 170 per week, and grows to 195 on the weeks when we offer children's and youth ministry. All are welcome to join us for our ecumenical celebration of the Eucharist on Sundays at 9:00 am.
The oblate community has 180 members, both women and men hailing from various Christian denominations, with a dozen who are becoming members of the oblate community in April 2013. The oblate community is run by volunteers from within the ministry. They work as circles and do everything from planning retreats and formation activities to publishing a newsletter for the community. A group of 38 oblates have collectively volunteered more than 1,000 hours in 2012 — equivalent to a half-time staff position. It truly has taken a village of oblates coming together to sustain this ministry and support one another in studying and living out the Rule of Benedict.
Hospitality is vital to our monastery — from welcoming individuals and groups in our retreat and guest house, to serving meals and providing spiritual direction for our guests. This past summer the sisters welcomed Rebecca Meier-Rao, a doctoral candidate in theology at Marquette University in Milwaukee, for 10 days. She opted to stay here in the retreat and guest house because she's interested in contemplation and mysticism, and the quiet at Holy Wisdom Monastery afforded her the opportunity to explore this more. She came at the same time as the Volunteers in Community, so she was able to work on the grounds and connect with them, plus share meals with the sisters. In the evening, she worked on her dissertation. Rebecca's relationship with the monastery is unique. She discovered us just recently, but found out that she spent time here as an infant when her parents were involved in a Lutheran missionary program, Summer Institute for Mission, that the sisters hosted in the 1970s and 1980s. We love having the connection of hospitality through the generations.
We are involved in the local community to promote works of justice. Each month, members of the monastic community and Sunday Assembly community prepare and serve meals at Luke House, a community meal program in Madison. The coworkers at Holy Wisdom Monastery opted to collect an annual Thanksgiving offering to support the work of Luke House. We believe that one way to express justice at Holy Wisdom Monastery is to live in right relationship with one another. We welcome our brothers and sisters from the gay, lesbian, bisexual, and transgender communities to participate in our ministries.
Care for the earth is a 1,500 year old tradition in Benedictine spirituality. We have restored nearly 100 acres from agricultural land to natural prairie. Each week, we have volunteers helping us remove invasive species, clear brush, and collect native seeds for other sections of the prairie. Prairie restoration greatly reduces the run-off of pollutants such as phosphorous into the Lake Mendota watershed. Over fifty volunteers helped us collect native plant seeds and remove invasive species at our two Community Workdays in September. We look forward to hosting more workdays in 2013 on April 6 and October 12. Our guests are welcome to walk on our trails, view a sunset from one of our memorial benches, or volunteer on the grounds.
I hope you will consider visiting us at Holy Wisdom Monastery in the near future. There are opportunities for prayer, worship, volunteering, personal and group retreats, exploring our nature trails, and spiritual guidance. Please explore our website at www.benedictinewomen.organd let us know how you would like to participate! If you are interested in supporting our ministries, donate now.