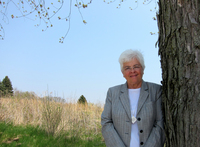 One of my most cherished experiences from childhood was going to the "preacher's house" to buy a bridle for my pony. I had my pocket full of "egg money," saved from each sale. Placing the money on his very large wooden desk made me wonder if I had enough. Rev. Doctor looked at it and me, and with a big smile said, "That's about right," and shook my hand and handed me the bridle. I sensed it was a matter of trust and respect, not money, that made the sale. Little did I know that this childhood inter-denominational experience would hold significance for me; 40 years later, I would join with community members in a great ecumenical experiment.
I grew up on an Iowa farm with my parents, three brothers and a sister. We lived a mile from Hospers with a population of 500, most of whom belonged to one of four churches. At our public high school, classes began after one of the teachers read from the Bible and we all said the Our Father.
One day during release time for religious instruction, our Catholic class received a visit from a Benedictine sister; she came from St. Vincent Hospital in Sioux City, Iowa. Without that visit I might have married a local farmer and lived happily ever after; almost certainly, I would not now be a Benedictine sister. Or maybe I would have joined the Franciscans who taught me in grade school.
Instead I visited the nursing school at St. Vincent's. After graduation from high school, I began the nursing program where I learned more about the Benedictine sisters. I joined them one
year later in Madison, WI.
Entering the community before Vatican Council II gave me the experience of wearing the complete habit and living by a tradition tied to many externals: rather than wearing a checkered black and white apron I must wear a black apron when cleaning the chapel. And there were other such trivial directives.
Because my community was small, less that twenty-five when I entered, I learned to adapt and to make provisions as my pioneering sisters had done: in teaching the Indian children in the Dakota territory; building a hospital in Sioux City Iowa, and moving the community to Madison, WI to build and begin a girls' high school.
After completing an extended novitiate, (my adaptation took longer than expected), I made my First Profession to monastic life on the feast of Epiphany, 1961. My monastic formation and education continued. After finishing a B.S. from the University of Wisconsin- Madison (later I would complete studies in theology and spirituality) I taught chemistry and horsemanship at our girls' high school.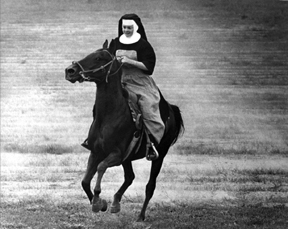 Sister Mary David on horse – photo by Tom Barlet
Horse stories abound. Pictures of galloping nuns, veils flying and draping black garb appeared in newspapers. One story involves a group of campus ministers, who taking a break from their deep theological conversations, asked to go horseback riding. After a few pointers on how to hold the reins and to keep their heels down, they were ready for a yahoo ride. All was going well until we rode into the clearing. Hanging on to the saddle horn with loose reins, riders and horses went in all directions, some where the horses wanted to lead: back to the barn.
My heart pounded; this was the end of the ecumenical movement, I thought; surely some will be killed.
All ended well and one minister who later became a close friend of the community, told me that this experience was life changing for him. He had a new understanding of nuns and ecumenism.
The next 40 years of my life continued with many ecumenical experiences. The word "change" probably describes these years best.
Vatican Council II opened the doors to the world especially for the Roman Catholic sister. It was a revolution. We were called to study the scriptures and the writings of our founders and to be open to the Holy Spirit as we examined our ministries and our structures.
Our community embraced the Council's call to renewal. The Decree on Ecumenism touched us deeply. In our visioning we re- emphasized our Benedictine values of prayer, hospitality and community building. Gradually we changed our way of praying together, using inclusive language, redesigning our worship space and inviting people to join us in prayer and worship. Our prayer with other Christians led us to a new work and we opened an ecumenical retreat center and closed our school.
Our new ministry brought many Christians from various denominations and some members of world religions for retreats and meetings at our monastery, Saint Benedict Center. Experiences of praying and sharing faith stories, as well as a good softball game helped change our perception of one another and appreciate our differences.
Recognizing that ecumenism had changed our hearts, our community began a process with the Federation of St. Gertrude to become an ecumenical community of sisters. In 2006 after fourteen years of consultations and guidance from many women and men, we officially became an ecumenical Benedictine community of sisters.
The change of status from a totally Roman Catholic community to an ecumenical community required a new name for our monastery. We chose Holy Wisdom because of its meaning in the scriptures. In the Hebrew scriptures Sophia or Wisdom is the feminine personification of the Spirit of God, and in the new testament, Jesus is the wisdom of God.
As I end this musing of fifty years of monastic living, I am amazed by my community's response to the call of Vatican Council II to adapt and renew our lives.
And I am deeply grateful to God for my community and the people who support our community and our vision.
After all, what is 50 years in the whirl wind of the Spirit's call into the unknown future?