The Prayer of Jesus
          Holy One, our only Home,
             blessed be your name,
               may your day dawn,
                 your will be done,
                 here, as in heaven.
          Feed us today, and forgive us,
             as we forgive each other.
          Do not forsake us at the test,
             but deliver us from evil.
             For the glory, the power,
            and the mercy are yours
                    now and forever.
                               Amen.
©2007 Benedictine Women of Madison,
Holy Wisdom Monastery, Madison, Wisconsin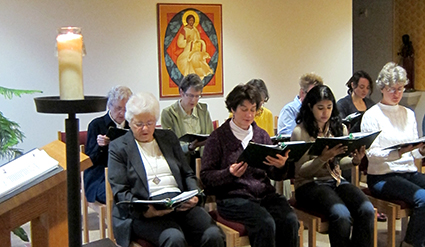 Sojourner Brenda Lisenby (far right) prays the Prayer of Jesus with sisters, sojourners and guests during daily prayer at the monastery.
I remember clearly the day I was reciting the Prayer of Jesus and the words "our only Home" moved something deep within me. I realized it as Truth. I first encountered this prayer as it is prayed at Holy Wisdom in March of this year when I came on my first personal retreat here. My life as a missionary is a life of frequent travel, and finding a sense of home is always a challenge. I have been longing for a more stable life, one that would allow me to put down roots and be truly at home. This longing has led me to Holy Wisdom and exploring monastic life as a Benedictine Sojourner. I have found a warm welcome and experience both the giving and receiving of Benedictine hospitality. Yet even as I find a home at Holy Wisdom as a sojourner for now, the words of this Prayer of Jesus remind me that ultimately, my home is in the Holy One. This deep truth comforts me and reminds me that wherever I may be, I am always welcome with the Holy One.
To learn more about community life at Holy Wisdom Monastery contact Sister Lynne Smith at lwsmith@benedictinewomen.org, 608-831-9305.