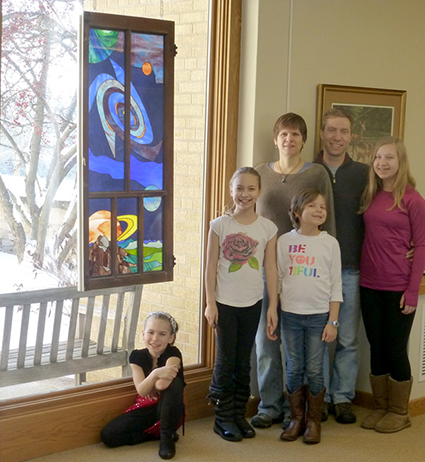 Artist Tracy Grade (back center) with her family in front of the stained glass piece she designed.
The next time you visit the Retreat & Guest House at Holy Wisdom Monastery, be sure to stop by room 113 on the main floor. As you look out toward the garden adjoining that room, you'll see a lovely new addition suspended in front of one of the windows—a stunning stained glass image assembled within an old wooden window frame.
The window, donated by one of our Sunday Assembly members, is the creation of local artist, Tracy Grade. In 2010, Tracy launched the Glass Catfish Studio in Waunakee (www.glasscatfishstudio.com) to create original stained glass art using the copper foil and solder technique. Largely self-taught, she is known for non-traditional interpretations of classic themes: human forms that echo graphic novel illustrations; landscapes that one might see at night in a faraway galaxy; and geometric pieces that are decidedly asymmetrical.
The new window, carefully installed by Tracy's husband, not only represents a theme but carries a title that deeply resonates with a conversation currently animating many encounters at the monastery. The title of the window is "Cosmic Doorway," which echoes recent presentations and discussions about the new cosmology and evolutionary consciousness. The connection is so strong, in fact, that the donor experienced the piece as a moment of grace masquerading as a coincidence!
According to Tracy, "Cosmic Doorway" expresses the way she feels when taking in the night sky—awestruck by the limitless possibilities and deeply connected to something larger than herself. As she explains, "Infinite stories are waiting to be told after passing through the Cosmic Doorway." And many of those stories will be shared within the rooms of our Retreat & Guest House.
Tracy lives in Waunakee with her talented husband, four amazing daughters and two entertaining cats.