Holy Wisdom Monastery provides many ways for women and men to take part in the mission and vision of the sisters' community. The oblates of Holy Wisdom Monastery are one group that shares in our mission and vision. The oblates are an intentional and ecumenical community of women and men in society. In a mutual relationship with the sisters, they seek God through the Benedictine tradition of a balanced life of prayer, work, leisure, and study.
The oblate community provides its own leadership. The leadership circle attends to the on-going details of the life of the community. It chooses speakers and oversees the planning for the five oblate retreats held throughout the year. A number of oblate members coordinate various aspects of the community life: the leadership discernment process, registration and volunteer coordination for retreats, liaison for the regional reflection circles that meet in Madison, Milwaukee and Indiana during the months between retreats.
Members of the oblate formation circle interview those interested in becoming oblate candidates. The circle leads an orientation day for new candidates in April and provides formation in Benedictine values and prayer for oblate candidates throughout their year of candidacy. During this year, each candidate writes their own rule for their spiritual life. The formation circle also oversees the on-going formation for the whole oblate community as it seeks to provide opportunities for oblates to deepen their living and learning of Benedictine values.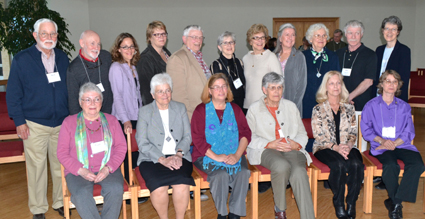 Oblates of Holy Wisdom Monastery class of 2012 with Sisters Mary Walgenbach, Joanne Kollasch and Lynne Smith.
Currently there are 178 oblates of Holy Wisdom Monastery. In 2012, thirty-six oblates provided eight hundred volunteer hours in service to the monastery. The sisters are grateful to the oblates for their presence and support of our ministry in so many ways.
Oblates find support and encouragement at the monastery to live out their spirituality in their daily life and ministry. Oblates help each other become their true selves and grow into a mature spirituality based on the Rule of Benedict.
Here is how several oblates express the living of their oblation:
"I have continued to live out my rule – would not survive without this. The daily rhythm of singing the Psalms, lectio, work, worship with my community at church all sustain me. And keep me connected to the monastery." – Carol Nickel, oblate class of 2004, Goshen, IN.
"Throughout this year of healing from a serious accident my commitment as an oblate has deepened. I have felt supported and connected to the larger Benedictine community at Holy Wisdom Monastery. My own personal rule provided a sense of grounding for me. The Milwaukee oblate reflection Circle has been important to me as a local support community." – Kate Delaney Jolin, oblate class of 2003, Milwaukee, WI.
"I keep my small business going and have a full time job with county government. I am engaged in my work community as Union Chapter chair so I am able to practice listening and reach out with the intent to offer other ways for conflict resolution that seek dignity and justice for all involved. For me this is a way to practice hospitality. I try again to seek Christ in all people and to learn from different views." – Pam Chipman, oblate class of 2001, Saint Ignace, MI.
"I attend to the Rule also in my growing focus on God's presence in the work of the day. In greeting the day in love and gratitude, in celebrating the clean kitchen when I greet it in the morning and savoring the work of washing dishes in the evening." – Linda Newman, oblate class of 2004, Madison, WI.
If you would like to learn more about becoming an oblate candidate, contact oblate-inquiries@benedictinewomen.org or call Sister  Lynne at 608-831-9305. We begin a new class of oblate candidates in April, 2013.