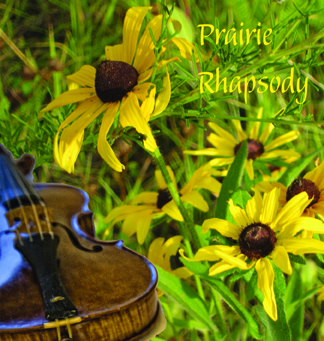 For the third year in a row, the Madison Bach Musicians (directed by Trevor Stephenson) will return to Holy Wisdom Monastery to play at the annual Prairie Rhapsody benefit concert on the evening of June 28, 2012. This year, Trevor has put together a spectacular lineup of musicians to accompany him on the harpsichord, including Erin Cooper Gay (soprano) from Toronto and Chicago-based Anna Steinhoff (viola de gamba).
Jacob Stockinger of The Well-Tempered Ear blog (and formerly the music critic for the Capital Times) wrote the following about last year's concert, excerpted from his July 19, 2011 blog post:
Several things made the event, which included light dinner and desserts plus wine and other beverages, a success. One attraction was the lovely setting. The monastery itself is set in a prairie field that seems perfect for such an event. You can gaze at meadows, fields, woods and prairie from the outside and even from inside the large windows in the architecturally handsome and crisp new buildings and assembly hall . . .
From the hearty applause that came between movements, you could tell that two crowds were present: what I will call "The Music People" and "The Land People," including of course many crossovers.
But what brought both of them together were two things: the pleasure of great music wonderfully explained and performed; and the cause of restoring the land—the Benedictine prioress informed the crowd that the program has already reclaimed to a pre-settlement state some 100 acres of prairie plus an 11-acre, 10,000-year-old glacial lake fittingly named Lost Lake and has also restored trails and ponds to improve run-off and protect nearby Lake Mendota.
This year's concert will be lovely, and we hope you can join us. We'll start with a reception at 5:30 pm, featuring appetizers prepared by our monastery chef, Barbara Wright (who formerly ran the Dardanelle's on Monroe Street before coming to work with us). You can enjoy a glass of wine, beer, or apple cider straight from the sisters' orchards while perusing the artwork from the Sonata poetry and photography exhibit that runs through July 10, 2012 at Holy Wisdom Monastery. Don't forget your check book! We'll have greeting cards from the Sonata exhibit available for purchase, as well as the opportunity to bid on items from our silent auction, including: an instant wine cellar, a picnic in the prairie offered by Barbara Wright, tickets to a few performances at the UW-Whitewater theatre, and some framed pieces from the Sonata exhibit. The concert with the Madison Bach Musicians will begin at 6:30 pm.
Tickets are still available and can be purchased for $50 ($25 tax-deductible) by visiting our website and registering using a credit card, or by filling out this PDF form and returning to Prairie Rhapsody, Benedictine Life Foundation, PO Box 5070, Madison WI 53705-0070. If you are unable to attend, but would still like to donate to the Benedictine Life Foundation to support Care for the Earth initiatives at Holy Wisdom Monastery, please sign up for 0 tickets on the Prairie Rhapsody form and make a donation of any amount. Your support is much appreciated!
None of this would be possible without the generous support of our sponsors. These are all individuals and organizations that believe in the power of visual and performance art to bring people together to support the Care for the Earth initiatives at Holy Wisdom Monastery, which are as old as the 1,500 tradition of the Rule of Benedict. This event would not be possible without the generous support of:
Alliance Benefit Group
American Family Insurance (Jeff Engelkes, agent)
Anonymous Donor
D.R.S. Ltd. – the company that paved our drive with their recycled rubberized asphalt.
First Business Bank
Full Spectrum Solar
H&H Industries
Meicher & Associates, LLP
Meuer Art & Picture Frame Co.
Phoenix Consulting
Gail and Dan Shea
Summit Credit Union
Sal and Judy Troia
Richard Wagner
Mary Zaborski, Merrill Lynch Green Bay
For more information about Prairie Rhapsody contact us at 608-836-1631, x124 or blf@benedictinewomen.org.