At lunch and dinner in the monastery, our chef, Barbara Wright, likes to tell the sisters, retreatants and guests what we are having for the meal. She always lets us know what has come from our garden. Retreatants are pleased to hear that most of the vegetables are grown on the property.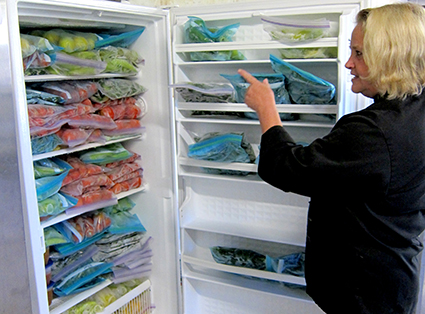 Monastery chef Barbara Wright checks out the freezer-full
of frozen vegetables grown at Holy Wisdom Monastery.
Most Benedictine monasteries have gardens. Saint Benedict writes: "When they live by the labor of their hands…then they are really monks." Manual labor is part of the balance of Benedictine life. Our work in the garden, besides providing us with a fresh local source of food, keeps us grounded and in touch with the cycle of the seasons. It gives us an appreciation of those who earn their living through manual labor, and it reminds us of our dependence on God's creation for our sustenance.We have twenty different types of veggies growing in the garden—everything from asparagus to zucchini. Each year the yield is different depending on the conditions. One year we have an abundance of tomatoes and cucumbers, the next year eggplant are prolific but the cukes don't produce much. This year tomatoes, eggplant and peppers are abundant. We eat the produce fresh when it comes in. Then the volunteers, Benedictine Sojourners and sisters work with Barbara to process the vegetables and fill the freezers for the winter. Potatoes, onions and winter squash last until February or March stored in a cool, dry basement. When we have an over abundance of one thing or another, we take it to Middleton Outreach Ministry food pantry along with a tenth of our apple crop each year.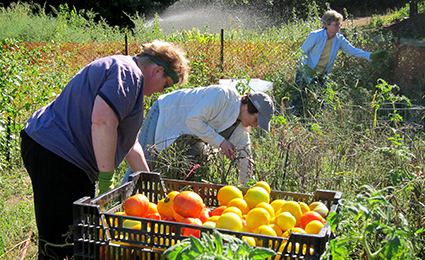 The Benedictine Sojourners help harvest the multitude of tomatoes.
Throughout the growing season the Volunteers in Community and Benedictine Sojourners help the sisters maintain the garden. Below are reflections from our current sojourners on their gardening experience.
I love gardening. This must be how a proud parent feels. I arrived at the monastery in April. Rain delayed the garden's planting. But soon Sister Mary David was out on the tractor to make room for the seedlings coming to life under indoor grow lights. Soon we all were out there planting, watering and weeding. A lot of hard work, then watching, waiting and wondering. Now the harvest. Still a lot of work, but oh the joy of eating fresh and local and having played some little part in a tasty nutritious feast prepared day after day by chef Barbara, brought to the table by hands and hearts working together. – Trish
Ironically, working in the garden is one of the things I have most looked forward to as a Benedictine Sojourner. It is hard work, especially when everything is getting ripe and needing to be picked and processed, and the weather is hot. But in spite of the hard work, there is also a delight. There is delight in looking at the crates full of tomatoes just picked, the squash just cut, and seeing the plants in their newly weeded rows. There is also delight in what I have come to call "gardentreasures." One day, I pulled up a beautiful marble as I was weeding—blue and white and green, looking a little like what I imagine earth would look from space. I wondered, "Who was here before me, that they lost this marble?" So as I dug in the dirt, to be reminded of the whole earth and others who had been before me gave a delightful pause to the rhythm of work. Another time, once more weeding, I nearly disturbed a garden snake curled up for its nap around a potato plant. But I gave him his space and moved to another section of the potato patch. I kept checking back, and eventually, he finished his nap and went on his way. The treasures of the garden are not just the vegetables that we pick, they also include other delights as well. – Brenda
Buckets, hoes, knives and bins assist in the garden harvest as the green of early summer manifests a multitude of late August colors. The smell of the tomato plants has an impermanent quality. It's an aromatic blend of crisp, sweet and citrus that fills my nose for a moment and leaves an unexpected memory. While writing this I have a subtle recall of that strange and wonderful scent. The beans have been my delight. They offer the satisfying challenge of hide-and-seek in the camouflage of stems and leaves. At first the weeds were overwhelming, now they provide rhythm and thoughts about hopeful existence as they spread and grow regardless of our presence. Daily I look forward to the garden and am experiencing it as a place of "extraordinary time." – Vicki
There are a plethora of red, yellow and cherry tomatoes in the garden. Daily we walk down the various tomato rows and judge which are ripe and ready to be picked, which have spoiled on the vine and which need a little more time to come into full ripeness. As a new sojourner, it reminds me of how the call to explore monastic life was planted by God and is now ripe as I begin to fully live into the daily monastic life with fellow sojourners and the sisters.  – Alison
If you are interested in learning more about Benedictine Sojourners contact Sister Lynne Smith at lwsmith@benedictinewomen.org,
608-831-9305.