Hospitality is one of the core values that the sisters live at Holy Wisdom Monastery. One way they do this is by welcoming all to participate in the activities at the monastery. Among the many guests of the monastery, members of the gay, lesbian, bisexual, transgendered and queer (GLBTQ) communities in Madison and beyond find a place of spiritual comfort and refuge here.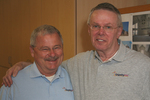 Sunday Assembly has a number of gay and lesbian members. Jim Green and Bill Diederich have been worshipping and attending retreats with the sisters since the early 1970s. Bill and Jim recently celebrated their 40th anniversary together with affirmation from the Sunday Assembly community. Jim also initiated Solidarity Sunday in the early 2000s to coincide with the national program through Dignity USA that honors National Coming Out Day in October. Jim and Bill are two significant supporters of the Sunday Assembly community, inviting and welcoming everyone they meet who is looking for a spiritual home.
"Hospitality is on the top rung of all outreach for the sisters," Jim said. "It's been a journey for the sisters and they have learned a lot about sexual orientation and gender identity over the years [since I first started coming out here in the early 1970s]."
The Sunday Assembly community recently welcomed Phil Schleicher to its membership. Phil and his longtime partner of 22 years, Steve Schumacher, are planning a wedding ceremony here in October. Phil first heard about Holy Wisdom Monastery through Steve, who did a pro-bono video project on the development of the prairie in the late 1990s. Phil eventually got connected to worship at Holy Wisdom Monastery through Jim and Bill. He maintains a duel membership in a Roman Catholic church in Madison, but it doesn't meet all his needs. He knows that they would never do a commitment ceremony for a gay couple at the Catholic church, which makes him feel that "the Church has left me," as opposed to feeling like he has left the church. "The Roman Catholic Church used to be about peace and justice," says Phil. "Holy Wisdom Monastery reminds me of this. There is a strong sense of community there."
Holy Wisdom Monastery has also been the spiritual home for some who are experiencing transitions in gender identity. Heather Field began coming to Holy Wisdom Monastery for retreats and Sunday Assembly worship in 2005. She converted to the Roman Catholic Church in 1998 and fell in love with the rituals of the church, such as blessing with holy water and celebrating the Eucharist. In 2004 she came out as not fully male and began transitioning toward her gender identity as a female. It was during this transition that she lost her marriage, her house, her family, and her faith. After moving to Madison in 2005, she called the Diocese of Madison to find out options for ministry with transgendered people, and had no luck. She called the campus church, St. Paul's, and again was met with no answers. She saw options for welcoming communities in the United Church of Christ (UCC) and the Metropolitan Community Church (MCC), but the rituals during worship were foreign to her. She met Jim Green and he told her to check out Holy Wisdom Monastery. She came out here in 2005, sat in the old sanctuary at Benedict House, and immediately felt at home.
At Holy Wisdom Monastery, she feels welcomed. "I wanted to be accepted, not just tolerated," she said. She likes the gender-neutral, inclusive language used at the liturgy. Lately, she has been learning to incorporate the teachings of St. Benedict into her own spiritual life. She sees Holy Wisdom Monastery as taking a proactive approach to sexuality and gender issues, and hospitality is key to this. "All of us are charged with the responsibility of hospitality," she said.
The call of hospitality to the GLBTQ community goes beyond Sunday Assembly. Domestic partners as well as heterosexual spouses of co-workers at the monastery are offered full health and dental benefits.
As part of the sisters' ministry of hospitality at the monastery, space is offered for celebrations and ceremonies. More couples, including gay and lesbian couples, are seeking out Holy Wisdom Monastery as a site for their wedding, ceremony and reception. All couples arrange for an officiant for their ceremony.
The monastery is hosting a retreat here on August 27, 2011 called An LGBT Spirituality Retreat, which is being facilitated by Craig Mueller, an openly gay pastor from Chicago's Holy Trinity Church (for more information on this retreat or to sign up, you can contact Jerrianne at (608) 831-9306). And of course, you are always welcome to attend Sunday Assembly Eucharist at 9 am to see this call to hospitality taking place.