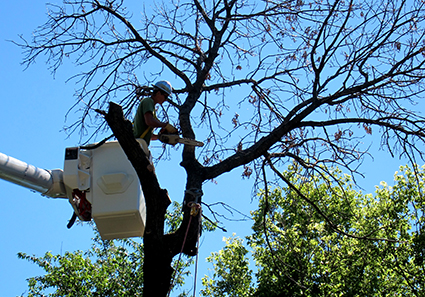 Estate "The Tree Care Specialists" maintains the trees high above the hermitages and throughout the grounds. 
Trees
By Joyce Kilmer
I think that I shall never see
A poem as lovely as a tree.
A tree whose hungry mouth is prest
Against the sweet earth's flowing breast;
A tree that looks at God all day,
And lifts her leafy arms to pray;
A tree that may in summer wear
A nest of robins in her hair;
Upon whose bosom snow has lain;
Who intimately lives with rain.
Poems are made by fools like me,
But only God can make a tree.

There are many majestic trees on the monastery property that provide shade for our guests and homes for birds.
The large trees were planted by the sisters around 1954. Sister Joanne Kollasch recalls that some of the trees came to the monastery as small seedlings and were transported in strawberry boxes.
"Trees profess stability because they put down deep roots. The trees show the stability and rootedness of the community of sisters. They also represent our mission of care of the earth" Sister Joanne reminds us.
Since 2010, Estate "The Tree Care Specialists" (www.buckleytree.com) has been providing an annual in-kind donation of $2,500 in tree care for the monastery grounds and at the sisters' homes. This year, Estate pruned 11 oak trees for their in-kind donation.
General manager and certified arborist Chris Goodwin explains how the relationship between Estate and the monastery happened. "One of our former employees, Patrick, who also happens to be Sister Joanne Kollasch's nephew, mentioned the need for our services at the monastery. I contacted Holy Wisdom and we've been trimming the trees ever since." 
The huge silver maple tree located at the southwest corner of the retreat and guest house is a favorite of Sunday Assembly member and oblate, Tom Zanzig. "During oblate retreats last year, I often took long walks around the property. Each time I passed the silver maple it stopped me in my tracks. So majestic, weathered but still strong, almost seeming to stand guard over the guest house and the monastery. I was struck by the fact that that tree has been a silent witness to the entire history of the monastery. It now serves as a living, visual metaphor for who we have been and are as a community, deeply rooted yet always reaching out and growing."
Tom adds, "I feel a very personal connection to and affection for it, and a strange, almost parental desire to tend and protect it." Tom had to leave an oblate retreat early, suffering from back pain that would require surgery. He sent Mary David a note about his affection for the tree and his desire to help maintain it. "She responded with a lovely note, suggesting that soon and for a long time to come I would be able to lean my restored back against that tree for support and companionship. That's an image, and a practice that, God willing, will feed my soul for many years."