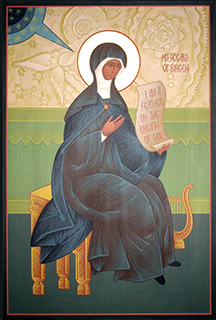 Many people today are interested in Hildegard of Bingen, a remarkable Benedictine nun who lived in the twelfth century. She was a visionary, a poet, a historian, an herbalist, a musician and prioress of her community. The sisters at Holy Wisdom celebrate her feast on September 17, with special readings and prayers at the Liturgy of Hours. One of the sisters' houses, where the Benedictine Sojourners and Sister Lynne live, is called Bingen House after Hildegard. Pictured here is an icon of Hildegard created by Peter Pearson that hangs in the house. Hildegard inspires us by her vision, her boldness, her commitment to the "greening" of God's creation.
Gabriele Uhlein is offering a retreat focused on her here at Holy Wisdom entitled Green and Glorious: Meet Saint Hildegard of Bingen, Prophet and Saint for Our Time! on Saturday, October 19, 2013 (register by October 11, 2013). We were pleased to see the notice of the retreat in the Wisconsin Council of Churches enewsletter earlier this summer. Let yourself be inspired by Hildegard's remarkable life this fall.
Follow this link to our 2012 blog post about Hildegard of Bingen to read even more about Hildegard.
To learn more about Benedictine Women of Madison and their mission of hospitality, contact Sister Lynne Smith at lwsmith@benedictinewomen.org, 608-831-9305.