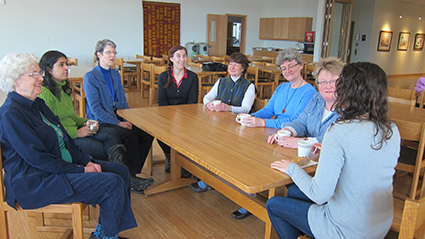 On April 15, 2014 sojourners, monastery guests, coworkers and sisters came together to say thanks and goodbye to four of the sojourers who lived in community with the sisters over the past 13 months.Four of our Benedictine Sojourners complete their time with us on April 21, 2014. Brenda Lisenby, Sarah Wilkin, Trish Stefanik and Vicki Wuolle have spent seven to thirteen months living in community, participating in and leading prayer, sharing in meals and leisure activities with the sisters and guests. We have been blest by their gifts as they have shared their lives with us and participated in various works of our mission.
Brenda will continue to explore faith communities and begin studies leading to a certificate in Spiritual Direction. Sarah is starting graduate school in occupational therapy beginning this summer or fall. Trish is returning to the Washington, DC area. Vicki is going back to Fond du Lac and resuming graduate studies and teaching. Our fifth sojourner, Rosy Kandathil, will continue her experience with us through the summer.
We wish them God's blessing. The program has been mutually enriching for both the sojourners and the sisters. All of us together are grateful for this shared experience. We are in the process of acceptingBenedictine Sojourner applicants for the fall with the program beginning September 15, 2014.
Contact Sister Lynne Smith, lwsmith@benedictinewomen.org,
608-831-9305, if you have questions about living in community at Holy Wisdom Monastery.