"We seek the God of our longing who is near."
~ Antiphon for Monday evening prayer, Advent week 1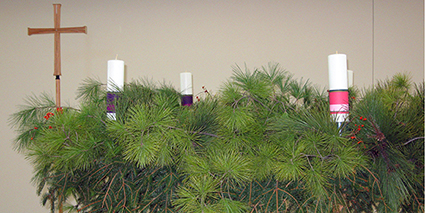 One candle is lit each week during Advent as we await the coming of Jesus.
At the heart of monastic life is the search for God. The liturgical seasons shape our prayer and our lives at the monastery on our journey to the Holy One. Each season gives voice to different aspects of our spiritual journey. The celebration of Advent can reset our inner compass to our deep desires for healing, hope and peace that God's presence brings.
While stores are filled with Christmas carols and sales promotions, the monastery oratory and assembly room are steeped in readings from the prophets and the music of antiphons (refrains sung with the Psalms) filled with longing and hope for God's healing presence. At the beginning of each prayer we light one candle on the Advent wreath for each week as we approach Christmas. On our dining table we also light the Advent candles on Sunday evening.
The theme of light in darkness is strong in Advent and fits the turning of the natural world to quiet and lengthening darkness at this time of year in the northern hemisphere. Our mood turns with the season to one of quiet reflection.
Our Sunday Assembly marks the weeks of Advent with a 12-foot wreath that rests on special legs created for us by Thomas Dumke, of Thomas Williams Furniture in Oconomowoc. Volunteers gather in late November to create this wreath from fresh greens from the monastery woods. Each week, at the beginning of worship, members of a different household process in with the candle for the week and place it on this large wreath.
Five sojourners are celebrating Advent with us this year. They bring many gifts into community and we are pleased to share our Advent journey with them. In November, Brenda (one of our sojourners) was already anticipating and living into a new experience of Advent: "In the past, Advent for me has been a time of pondering the mystery of Christ born in us. The sojourners are in the midst of planning the Advent retreat and so in a sense, Advent has already begun for us. I find that this year, Advent is about learning to trust kairos time. Often, we think waiting diminishes us. The paradox is that in waiting we do let go of things, only to discover that in the end we receive a greater Gift."
Rosy (another sojourner) shares her experience of Advent at the monastery: "I'm thrilled to be here for Advent. I anticipate that I will learn and deepen in my own receptivity to God and God's creative work in my life. This is a richly symbolic time of year for the universal worldwide church. To celebrate Advent, here, in the midst of a monastic, ecumenical community where modernity and tradition meet and find friendship, is especially exciting. I feel, in a sense, that I am living in the very heart of Advent. To be among women of many faith backgrounds as we wrestle with the meaning of Christ dwelling among us every day in community, while discerning our own individual response to God's call, requires an alert spirit."
To learn more about living in community at Holy Wisdom Monastery contact Sister Lynne at lwsmith@benedictinewomen.org or 608-831-9305.