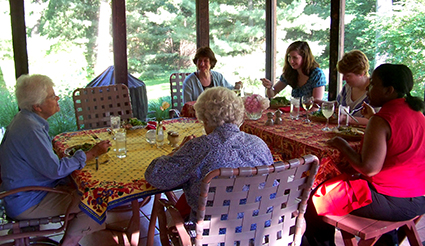 The sisters share their lives with Sojourners and
Volunteers in Community who are exploring
what it is like to live in community.
Benedict tells us that guests bring blessings to the community. The sisters have been blessed by providing hospitality to a great variety of people over the years.
Since the 1970s, in addition to our retreat and conference work, we have extended hospitality to women, men and families as guests within the sisters' community. Refugee families from Guatemala, Vietnam, India and China lived in the monastery with us. This meant providing more than just a place to stay, but becoming family to them. Since 1994, we welcomed over 30 Missionary Benedictine sisters from around the world. Through their living with us, we gained an appreciation for and connection to cultures and peoples around the globe. This informs our reading of the news and our prayers.
This summer was the seventh year we welcomed Volunteers in Community to live with us, learn Benedictine spirituality and work in our care for the earth initiatives. It was the second year the women lived in one of the sisters' houses during their time with us. One of our Volunteers with TV production experience created a video about the 2013 Volunteer in Community experience.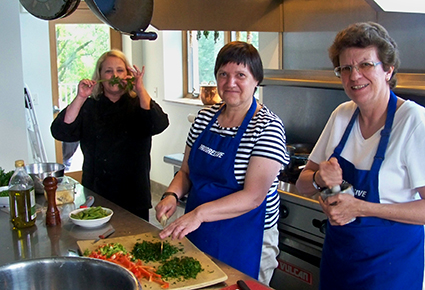 Sisters Carmen (center) and Magdelena (right) prepare
a traditional Spanish paella in the kitchen with
monastery chef Barbara Wright.
In addition to the Volunteers in Community, we welcomed two sisters from Spain who lived with us for three and a half weeks this summer. We were enriched by their sharing of their life and ministry in Spain. They pitched in at the garage sale and in the garden. They fixed paella, a traditional Spanish meal, and taught us a simple thanksgiving dance after the meal.
Through our Benedictine Sojourner program, the sisters invite women into our home and our lives for six to twelve months. In this way, the women experience the rhythm of our Benedictine life and community for themselves. Community living is a central part of Benedictine life. It stretches us sisters to include others closely in our life together, and it stretches the women who live with us as they learn to live in an intentional community.
This fall we welcome four more women as Benedictine Sojourners. Alison, Brenda, Rosy and Vicki will join Trish who has been with us since April 2013. Two of the women come from the east coast—Washington, DC and New York City. One is from Wisconsin and one from Texas via Hong Kong where she served as a missionary. They come from various Christian traditions and already have some familiarity with Benedictine spirituality and the contemplative life. The women bring a wealth of experience—as a teacher, public defender, missionary and strategic planner. The sisters look forward to living, working, praying and sharing with these women in our communal life over the next year. As Saint Benedict suggested, we will certainly be blessed by their presence with us.
To learn more about Benedictine Women of Madison and their mission of hospitality, contact Sister Lynne Smith at lwsmith@benedictinewomen.org, 608-831-9305.