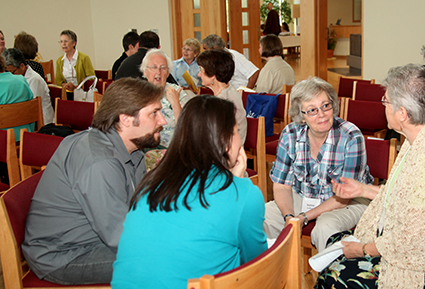 Breakout sessions allow for a more intimate conversation during retreats and can lead to spiritual deepening. Photo by Sandy Wojtal-Weber.
In late 2012, at the invitation of Sister Mary David Walgenbach and the Benedictine Women of Madison Board, a small group of volunteers started working as two committees to enhance the spiritual enrichment opportunities for adults at Holy Wisdom Monastery. The committees shared a common mission: to sponsor speakers and develop programs that would help deepen the spiritual life of members of Sunday Assembly as well as the broader Madison community. The two committees recently joined to become the Spiritual Deepening Council of Holy Wisdom Monastery.
Pamela Johnson and Tom Zanzig co-lead the new council. Other current members are Sister Barb Dannhausen, Trisha Day, Beth O'Brien, Sister Clare Wagner and Monica Walker.
As the council considers spiritual enrichment opportunities, they are guided by a compelling yet challenging question: Will what we are offering enhance the contemplative life of individuals and the Holy Wisdom community? 
In 2013, the Spiritual Deepening Council, with the Rule of Benedict as a compass, developed three core programs focused on foundational aspects of mature, contemplative spirituality. The first two programs were "Invitation to the Journey: Spirituality, Religion and the Struggle for Integrity," led by Tom Zanzig in February, and "Living Benedictine Values: An Everyday Path to Wisdom," guided by Carole Kretschman and Trisha Day in April. The Council's third core program, "Listening With the Ear of Your Heart: Contemplative Wisdom for the World" is facilitated by Beth O'Brien and begins in September.
The retreats have been well-attended by members of Sunday Assembly and other friends of the monastery. According to Pamela, "The feedback has been terrific. People are hungry for an opportunity to explore their spiritual lives." Here's what several participants said about their experience:
"The content was excellent and I loved the personal stories and references…. I was left wanting more."
"It was wonderful to have a deep and thoughtful discussion on spirituality, Jesus, and living in the world today."
"Holy Wisdom should keep offering classes where people can stretch their minds and not be afraid to question."
In addition to the core offerings developed by the new council, adults had other opportunities to attend fine programs sponsored or co-sponsored by Holy Wisdom, some guided by nationally-known speakers. Sister Simone Campbell of "Nuns on the Bus" came to Holy Wisdom in February to facilitate the Interfaith Coalition for Worker Justice annual breakfast. She also delivered the Ash Wednesday homily. In August, in an event co-sponsored with the Christine Center in Willard, WI, visionary futurist Barbara Marx Hubbard led a retreat attended by more than 200 people. This collaborative effort was so successful that both organizations look forward to working together again in the future.
As for upcoming opportunities for spiritual enrichment, on September 27-29, 2013, Sister Suzanne Zuercher returns to Holy Wisdom to lead Paths of Prayer: Nine Ways to Journey to God, a retreat on the Enneagram. And, in the Council's final offering for 2013 on October 19, 2013 all are invited to learn about Hildegard of Bingen during the retreat Green and Glorious: Meet Saint Hildegard of Bingen, Mystic, Prophet and Saint for Our Time! with Sister Gabriele Uhlein. For more information or to register for these exciting events, click on the links in the article.
The Spiritual Deepening Council meets five times per year in four evening meetings and one daylong retreat to plan programs for the coming year. The group finds guidance from their commitment statement:
Trusting in the Holy Spirit and inspired by Benedictine values and practices, we aim to accomplish our purpose by
being attentive to what God is doing here, in this monastery, at this time, with these people.
welcoming and supporting all who seek spiritual enrichment and companionship, honoring their unique journeys and walking with them in Benedictine hospitality.
developing, acquiring, sponsoring, or promoting programs and services for adult members of the Sunday Assembly and friends of Holy Wisdom Monastery (oblates, neighbors, and the Madison area community) that nurture ongoing spiritual transformation.
working together with openness, trust and respect.
If you are interested in deepening your spiritual journey and attending one of the upcoming 2013 programs, learning about the 2014 offerings or contacting one of the members of the Spiritual Deepening Council, contact Carolyn McGinley at cmcginley@benedictinewomen.org, 608-836-1631, x119.