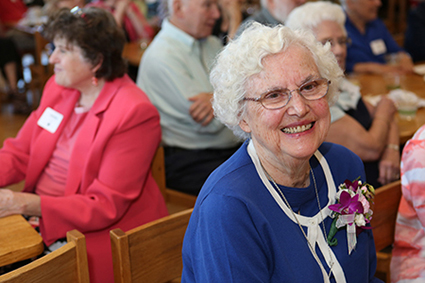 Sister Joanne Kollasch celebrates her 60 years of living in a Benedictine community with family and friends. (Photo by Kent Sweitzer)
Sister Joanne Kollasch has seen a lot of change in her 60 years of monastic life, but what hasn't changed is Sister Joanne's commitment to seeking God through a life following the Gospel and the Rule of Benedict.
"Benedictine life is a tradition that has lived for so many centuries and on the one hand there are all the values that have come down to us through those 1,500 years, but on the other hand the reason the tradition lives is because people have interpreted the tradition, brought it forward for the time and place in which they live," explains Sister Joanne.
Sister Joanne believes that the changes she's experienced over the years have come in the work the community does, not in the community's values.
In the beginning, when Sister Joanne joined the community, the sisters ran a hospital in Sioux City, Iowa. "I looked at our sisters who were in hospital work and I thought, I'm young and strong and they can use some help…well the spirit used that, of course, and then I find out that it gets turned around—in community you receive so much more than you give."
Change continued as members of the community moved to Madison, Wisconsin and started a girls' high school. But after seven years the sisters realized that operating a retreat and conference center was more compatible with the community schedule, which emphasizes prayer, than running a school. "Vatican Council II told communities to go to the spirit of their founders and renew their lives accordingly," tells Sister Joanne. The sisters decided in 1966 that a retreat and conference center better suited their community.
"Prayer is at the heart of the Benedictine community and that is the first thing we share with people," explains Sister Joanne.
In the 1980s the sisters heard from retreat and conference center guests about their longing for a form of community life for both women and men. After visioning with lay people, clergy, single people, married people and people from different Christian traditions, the sisters formed the Community of Benedict. The community placed Christ at the center and was made up of households of women and men. Community of Benedict decided to meet regularly at Holy Wisdom Monastery supporting the ministries of each household, but with one common ministry of serving the wider community through their participation in Luke House (a community meal program).
The retreat and conference center gave the sisters 40 years of ecumenical experiences as people from all faith backgrounds came to the center. So in 1992 when the sisters began a new visioning process for their community, they looked to their current experiences and embraced the possibility of an ecumenical community for themselves. "We didn't wake up one day and say we are going to be an ecumenical community. We had 40 years of experience," explains Sister Joanne.
Together, the sisters continue to look at new forms of community. The Benedictine Sojourner program, started in 2012, offers single, Christian women an opportunity to experience monastic life, as lived at Holy Wisdom Monastery, and participate in this life. According to Sister Joanne "the point of it is to take the skills and experiences learned in community living with them into their lives, and if desired, explore a call to community life with Benedictine Women."
Sister Joanne embraces the Benedictine values she has learned while living in community for 60 years and shares these values of prayer, hospitality, justice and care for the earth with all who come to Holy Wisdom Monastery. She believes that "monastic life continues to form you" and that she continues to be changed through her lifetime. Sister Joanne hopes that her commitment, and the celebration of this with friends and family "affirms their own values of commitment to their way of life."
* * * * * * * * * *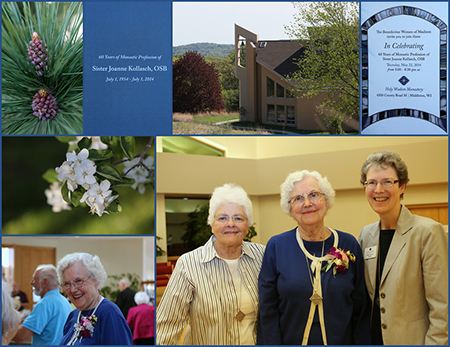 Thanks to all who celebrated 60 years of monastic profession with Sister Joanne Kollasch, OSB. (Photos by Kent Sweitzer)
All of us at Holy Wisdom Monastery extend a heartfelt thank you to those who supported and celebrated 60 years of monastic profession with Sister Joanne Kollasch, OSB. It was wonderful to see over 220 of her friends and family members at a celebration on May 22, 2014, which included evening prayer, a reflection about prairie restoration by Sister Joanne at the top of the hill, toasts in honor of Sister Joanne and a piano concert sing-along to cap off the evening. Her journey wouldn't have been as special without so many being a part of it over the last 60 years.
We are grateful for the outpouring of financial support for the Wisdom Prairie Project. Over $30,000 was donated in honor of Sister Joanne!
Kent Sweitzer captured the celebration with his camera. Click here to view photos from the celebration on May 22.