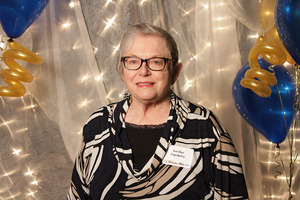 by Sue Ellen Zagrabelny, oblate class of 2010
About this time six years ago I was beginning the process of writing my personal rule. The task seemed daunting. I received guidance from the Formation Circle leaders, but then it was time to step off on my own.
I reviewed the Rule of Benedict and fairly quickly decided that Grace, Stability and Radical Hospitality would make up the three arms of my personal rule. I hoped it would enfold me and guide me as I embarked on the adventure of being Benedictine.
Surprisingly, the decision to make my rule a musical rule came quickly as well. I was acquainted with Bob Bennett a singer-songwriter who happens to be a Christian and I found his songs spoke to me. One was "Lord of the Past." The refrain goes like this:
Lord of the Here and Now, Lord of the Come What May
I want to believe somehow that you can heal the wounds of Yesterday,
And so I'm asking you; do what you want to do,
Be the Lord of my Past, oh how I want you to be the Lord of My Past.
One thing I had learned about myself long ago was that I carried around past burdens, so much so that I could remember every stupid thing I had done forever! This song spoke to me of grace and stability, and encouraged me to LISTEN and move forward in the Benedictine life, looking ahead, not over my shoulder. My rule has grown with me as I have grown in being Benedictine. I am reminded to approach relationships exuding grace and exhibiting radical hospitality. To me, that is what being Benedictine is all about.