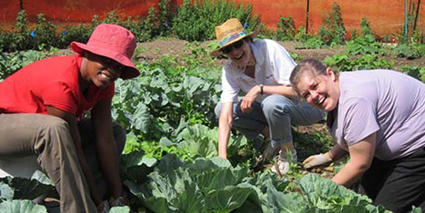 Volunteers in Community Hershey Mallette (left) and
Stephanie Borger (right) join Sister Lynne Smith in the
monastery garden.
This summer between June 10 and July 6, 2013 the sisters will welcome single women from various backgrounds to experience life in the monastery as Volunteers in Community. In the six years we have offered this program over 30 women have prayed with us, worked on the monastery grounds, and shared their stories with us. We have been challenged and enriched by the vitality and the faith they bring. If you know a woman who might be interested in becoming a volunteer this year, tell her about the monastery and have her contact Ann Moyer at amoyer@benedictinewomen.org or 608-836-1631 x197. Deadline for applications is May 17, 2013.
Here is what the experience has meant to past participants:
"I was given the gift of inspiring women who are committed to their faith journeys."
– Jesse 2009
"One thing I loved about the work was that we did what we could in the time we had and then when it was time to go in for prayer – we set it aside and learned to be content with what we were able to do. It often felt more about the process than the product."
– Lyndi 2010
"Community meals were a lot of fun and a great opportunity to meet the members of the community and guests to the monastery."
– Betsy 2011
"I am so grateful for the wonderful volunteer experience at Holy Wisdom Monastery and my time spent with the Benedictine Women of Madison. I feel that my heart has been expanded to receive God's love in new and different ways.  I enjoyed all the tasks and environmental work. Doing it gave my mind a break from all the questions and wonderings that were forming from my new life at Holy Wisdom, the books I was reading and the conversations that were developing as a result of living in community. I have had an awesome time!"
– Hershey 2012