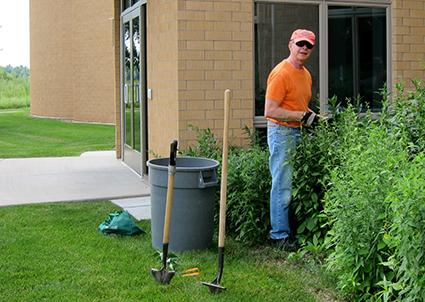 Michael Belongie helps keep the monastery grounds
looking groomed and well-tended.
A long weekly drive hasn't deterred Michael Belongie from volunteering at Holy Wisdom for the past 10 years. "The 96-mile round trip from Beaver Dam has proven more eye-opening and satisfying than 10 round-the-world trips I might have undertaken," Michael related.
Taking on tasks as varied as helping with controlled prairie burns, removing weeds from the gardens in front of the monastery and Retreat and Guest House, washing windows, taking out the trash and floor care keeps Michael busy when he's here on Wednesdays.
Prior to retiring from his career as a teacher in 2004, Michael dedicated two summer breaks to volunteering at the St. Benedict Center (now Holy Wisdom Monastery) in order to gauge how well the match would be to his interests as a poet and writer. "I attended two poetry events with the Wisconsin Fellowship of Poets which were hosted at the St. Benedict Center. The two summers of volunteering were significantly enriching. Upon retirement, with my wife Jane's blessing, I began volunteering one day per week," Michael said.
Michael was awarded the 2005 Environmental Stewardship Award by the sisters. At that time he assumed a goodwill ambassador role to encourage others to explore what was evolving as Holy Wisdom Monastery. He continues to bring friends and other interested people from the Beaver Dam area to visit Holy Wisdom on a regular basis.
Michael shares his poetry in the book Now is All We Have, available for sale on the monastery website. All book sales benefit the "Restore the Land, Renew Your Spirit" capital campaign at Holy Wisdom.
Michael has released a poem at Christmas for the last 40 years, and we are delighted that he has published an anthology of this collection in partnership with the Beaver Dam Area Arts Association. Copies of the book and greeting cards will be for sale after 9:00 am Sunday worship on December 8, 2013. A portion of the proceeds will benefit the Benedictine Life Foundation at Holy Wisdom Monastery.
The sisters' mission motivates Michael. "Extending hospitality, weaving prayer, caring for the earth/land and reaching out to the world with justice illuminates a path for me to follow."
For more information on how to volunteer at Holy Wisdom Monastery, visit our website.