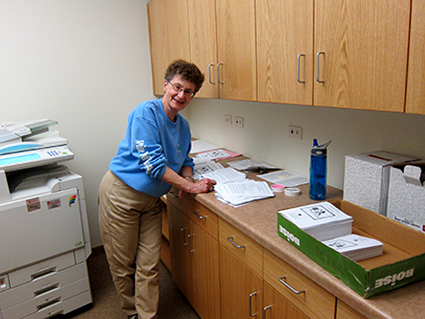 Most Wednesday afternoons you can find Margaret Sommers
in the lower level monastery workroom printing, folding and
collating 200 copies of the Sunday Assembly worship bulletin
and inserts.
Holy Wisdom Monastery is blessed to have a dedicated group of volunteers. Many of the volunteers help outside on the 95 acres of prairie. Margaret Sommers, on the other hand, almost always volunteers inside doing a variety of tasks related to Sunday Assembly worship.
Margaret came to Holy Wisdom sometime in the early 1980s for Sunday morning worship. In the late 1990s she learned from Mark Johnson who was director of worship and music at the time that he needed help copying, folding and collating the Sunday bulletins. Now Margaret spends two to three hours each week printing the bulletins for the growing worship community.
According to current worship and music director Lynn Lemberger, "Margaret copies almost 10,000 bulletins each year." This includes the Sunday bulletin and all special bulletins during Lent, Easter and Christmas. This may seem like a lot of paper, but with a weekly attendance average of 190 people the bulletins are needed, plus the paper is recycled and the prayer inserts are reused.
In addition to preparing the bulletins Margaret is one of three sacristans who comes early before worship and unlocks the door, lights the candles, prepares communion and sets out the bulletins. If you come on a Sunday morning for 9:00 am worship you may also see Margaret as a greeter, reader or communion assistant.
"I enjoy preparing the bulletins," Margaret says, "but you don't want me volunteering in the kitchen!" Instead Margaret handed out nametags at last week's Prairie Rhapsody fundraising concert.
She's also helped with special projects in communications, such as organizing photos, publicity and advertising so the sisters' can preserve this history in the archives.
Thank you Margaret for all your invaluable help with Sunday Assembly worship, with special events and projects!
For more information on how to volunteer at Holy Wisdom Monastery, visit our website or contact Jill Carlson at jcarlson@benedictinewomen.org, 608-836-1631, x108.