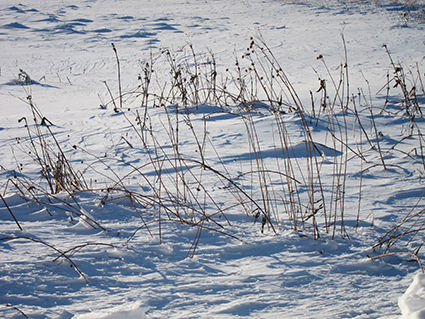 The restored prairies at Holy Wisdom Monastery are blanketed with snow, but progress on the Wisdom Prairie Project continues even during the winter.
Back in October, we introduced the Wisdom Prairie Project in Benedictine Bridge, detailing the unique opportunity the sisters had to acquire and restore an additional 53 acres of farmland to prairie. A five-minute video introduction to the project is also available here.
I wanted to give an update on the project. I am pleased to report that we have broken the $1.4 million mark on our way to the $1.9 million fundraising goal!
Recent donations have come in from a variety of sources. We received a grant from the Alliant Energy Foundation that helps us build on the grants from so many other foundations and government entities (American Printing Company, Bank of American Foundation, John C. Bock Foundation, Consulting for Non-profits, Herbert H. Kohl Charities, High Wind Association Foundation, Madison Gas & Electric Foundation, Middleton Community Endowment, Monona State Bank and US Fish & Wildlife). We have sent out a few other proposals and hope to hear more in the coming months.
Other donations have come in from our neighbors. We have been fortunate to receive media coverage in both the Wisconsin State Journal and Waunakee Tribune. These articles have inspired a few neighbors to drop by and learn more, as well as make contributions to support the project.
We launched an Advent-to-Easter challenge with our Sunday Assembly community. This community has been quite generous in contributing to the project, including gifts totaling $101,868 from 34 of our household members.
Another donor called me to indicate that she is making a qualified charitable distribution from her IRA account. Donors who are 70 ½ years of age or older can make a qualified charitable distribution from an IRA account directly to a charity by December 31, to satisfy the required minimum distributions for the year. This particular donor indicated she would donate $20,000 to support the Wisdom Prairie Project! More information on this option is available through the IRS website: http://www.irs.gov/Retirement-Plans/Charitable-Donations-from-IRAs-for-2012-and-2013.
We also connected with Ron Endres, a local collector of native prairie seed. He donated 65 species of prairie seed for use in restoring the new parcel to prairie. This will greatly reduce the need for us to manually collect seed or spend resources purchasing needed native seed. We are grateful to Ron for all the time he spent collecting and processing the seed that benefits both Holy Wisdom Monastery and other prairie restoration projects in Dane County.
It's the time of year when many people are considering gifts—both presents to give to family members and friends for the holidays, and also year-end philanthropic gifts. One donor wrote to me and indicated that her children are going to make gifts in honor of their father toward the Wisdom Prairie Project, instead of buying him Christmas presents. This is something you can do too for your loved ones! Gifts in memory or in honor of others can be made online. Contributions of $5,000 and above will be honored as part of a donor memorial on the new parcel.