The sisters are grateful at year's end for the women who have lived with us and volunteered in our mission through the Volunteer in Community and the Benedictine Sojourner programs. Volunteers in Community Hershey Mallett and Stephanie Borger lived, prayed and worked with us this summer helping to tend the vegetable garden. When the weather was too hot to be outside, they helped in the kitchen or in guest services. We are also grateful to Rebecca Meier-Rao who worked outdoors with the women for the first two weeks of the program. The sisters offered classes and two of our oblates offered the women spiritual guidance.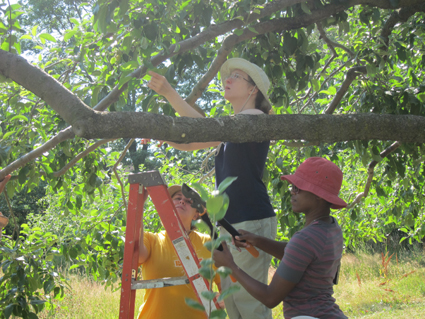 Stephanie Borger (left), Rebecca Meier-Rao (center) and Hershey Mallett (right) prune trees in the orchard this summer during the Volunteer in Community program.
Our two Benedictine Sojourners, Nancy Melin and Linda Steg, have completed four months of their stay with us. They have shown diligence and perseverance in learning Benedictine prayer practices, a balanced life-style and community living skills. We are grateful for their contribution to our work in the garden, kitchen, and guest services. Donna Carnes taught a month class on resilience and two more of our oblates have provided spiritual guidance for Linda and Nancy. It takes a monastery to teach women skills for the spiritual life.
April 12-14, 2013, is our next Exploring Benedictine Community retreat for single women who want to learn more about these opportunities to live the Benedictine life and take their skills back into their daily life. For more information or questions contact Sister Lynne Smith, lwsmith@benedictinewomen.org or 608-831-9305.