"Holy Wisdom is a joyful, spiritual home where we can worship with everyone and feel inspired and uplifted by a thoughtful message. We were drawn in by service opportunities on the prairie, and couldn't help but join this amazing family."   –Cassandra and Ryan Hall, recent members of Sunday Assembly
Membership in Sunday Assembly is established through regular worship with Sunday Assembly and through becoming known and getting to know the community. The Sunday Assembly new member orientation committee is providing a number of opportunities for new and continuing members of Sunday Assembly to get to know one another in a deeper way during Lent.
For each of us the mission, vision and values of Holy Wisdom Monastery have drawn us to Sunday Assembly. Perhaps it's the welcome or the silence or the commitment to care for the earth. You can read the mission, vision and values statement of the monastery in the Sunday Assembly bulletin or on the website. Join the conversation about what values resonate with you and get to know other members of the Assembly.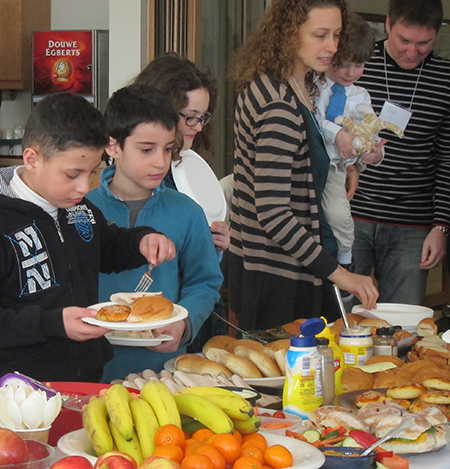 You are invited to one or both gatherings:
Saturday, February 27, 2016, potluck brunch and conversation, 9:30-11:00 am
in the sisters' dining room at the monastery. Bring a simple brunch dish, fruit, bread, or juice to share.
Thursday, March 6, 2016, potluck soup supper and conversation, 6 – 7:30 pm in the guest dining room at the monastery. Bring a salad or dessert to share. Soup will be provided.
Please sign up in the gathering area or reply to lwsmith@benedictinewomen.org and indicate what you will bring.