By Marcia Krater,
oblate class of 2008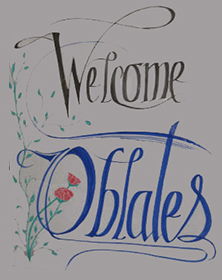 All oblates and oblate candidates
are invited to celebrate
15 years as a community,
July 18-20, 2014.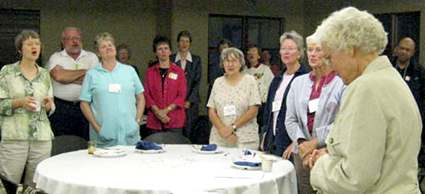 Oblates and sisters celebrate the 10 year anniversary of the oblate community.On July 18-20, 2014, the Oblates of Holy Wisdom Monastery will celebrate 15 years as a community!
What does it mean to be an oblate? Here is what oblates have said:
It "is about sharing and exploring how the Rule of Benedict
guides our lives" towards God.
"We are a community with its many layers of wisdom, sharing and seeking."
"In this community, I see amazing glimpses of God."
"We journey together."
This requires a BIG celebration!
Both the oblate community and the monastery have grown and changed in 15 years. We have all been a part of that growth and change.
The focus of this retreat will be looking at the past, the present and the future. Panels of oblates will share how we started and what it is like being an oblate now. Through table discussion we will ponder how the community might look in the next 15 years.
The retreat opens with a social hour to renew our connections and begin the celebration. A special liturgy will be held on Saturday evening. And of course, there will be cake—non-edible but meaningful cake as well as an edible cake to celebrate this special anniversary. As always, there will be food for the soul as we celebrate this milestone.
Come home, oblates—to rest, renew and reconnect in community. Click here to register. Contact Sister Lynne Smith, lwsmith@benedictinewomen.org, 608-831-9305, if you have questions about the oblate community at Holy Wisdom Monastery.