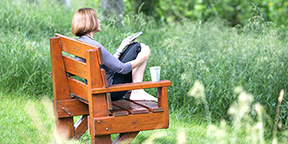 Like restaurants, hotels and many other places which offer customer service, the guest services team at Holy Wisdom Monastery wants to hear your opinion about your personal retreat or group meeting, retreat or event.
In order to procure that opinion, we provide a paper evaluation to personal retreatants and group leaders with our check-in materials. The evaluations garner input on hospitality, guest rooms, meeting rooms, meals and special areas such as the assembly room, oratory and library.
We also want to know what guests enjoyed about their time at Holy Wisdom and what might have made this a better experience for them. We ask guests where they heard about us.
In addition to the paper evaluation, guests have a second opportunity to complete an evaluation when we email a link to our online evaluation along with a note thanking guests for staying here.
I read each evaluation and follow-up to resolve negative comments with guests and the guest services team. The majority of comments are positive, which makes my job easier!
Here are comments from some recent evaluations:
Delicious, balanced meals. I appreciated the fresh garden vegetables.
Grounds are beautiful and facilities are well-cared for. Entire place supports my spiritual growth and gives me hope.
The general ambiance is very welcoming and warm. Everyone I encountered was gracious.
I felt very much "at home."
Chairs are brutal to sit in for longer than 30 minutes (we replaced uncomfortable chairs with extra chairs from another meeting room)
It was perfect in all respects—except that I would have liked to stay longer!
Find out what our guests are talking about when you come for a personal retreat, a group meeting or an event. Schedule your personal retreat with our online form or contact Amanda Conway atmonastery@benedictinewomen.org, 608-836-1631, x100 to schedule your next group event.