We describe our Exploring Benedictine community life retreats as a chance to: "…experience a taste of our Benedictine community life… ask questions, meet the sisters and interact with other single Christian women who are exploring their spiritual journey." Six women attended our most recent retreat.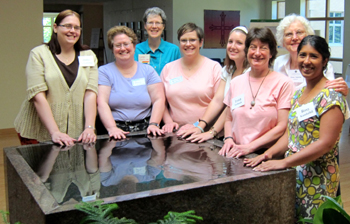 We indicate it is to begin Friday, June 8, 2012, 7:00 pm and close Sunday, June 10, 2012, 1:00 pm. The beginning and the end clearly established. But now as I read the evaluations of the six women, along with Sister Lynne Smith's and mine, I realize once again that the Holy Spirit's time is different from our time.
Do you entertain the thought that God may be calling you to take another step in your discernment?  Five women answer "yes" and one "unsure at this time."
Are there ways we (the sisters) could be more helpful in meeting you where you are on your spiritual journey?  One answer:  "I experienced each of you fully available to meet each of us where we were. My experience: of both a listening ear and heart."
I ask myself: where will the Spirit lead these women? There is much winnowing and sifting to come. However, my prayer is one of encouragement for them, and great gratitude for allowing me to touch their lives and they to touch mine. They are women in whom the vision of an ecumenical Benedictine community is enkindled, and can become a reality.