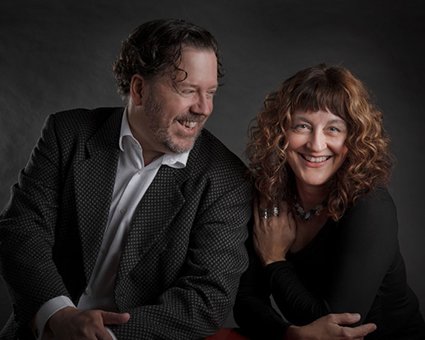 Bach Dancing & Dynamite Society co-producers Jeffrey Sykes and Stephanie Jutt bring their "chamber music with a bang" to Holy Wisdom Monastery on June 13, 2013 for the annual Prairie Rhapsody benefit concert. Photo by C&N Photographers.
We are pleased to announce that Bach Dancing & Dynamite Society  (BDDS) will bring their act to Holy Wisdom Monastery on Thursday, June 13, 2013 for the annual Prairie Rhapsody benefit concert. We are excited to see this come to fruition after being in conversation with BDDS about the possibilities since 2011!
BDDS performs throughout the Madison area in June of each year, bringing their "chamber music with a bang" performances to venues such as Overture Center, Stoughton Opera House and the Taliesin. We look forward to hosting BDDS for the benefit concert the night of June 13, 2013, and are pleased that the musicians are staying with us, eating meals with the sisters and rehearsing in our space the week of June 10-17, 2013. It is an honor to share the space with them in this way. We hope that after long days of rehearsing together, they venture out onto our nature trails and create some harmony with the native plants and wild animals that make up our prairie habitat.
The concert on the evening of Thursday, June 13 promises to be a bang. All money raised supports the sisters' care for the earth ministries at Holy Wisdom Monastery, which includes prairie restoration efforts on our grounds. The evening starts with appetizers at 5:30 pm and a silent auction full of wonderful items tied to food, the arts, and care for the earth. The music begins at 6:30 pm and ends with complimentary chocolates provided by Stam Chocolaterie of Middleton.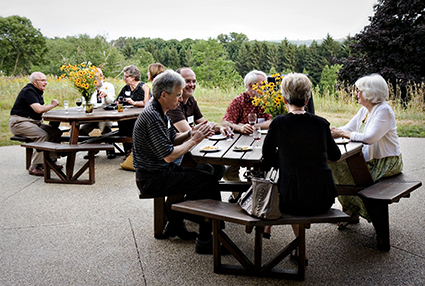 Guests at a previous Prairie Rhapsody enjoy refreshments at the edge of the prairie. Photo by Gregory Bleck.
This concert is possible because of all the generous support from our sponsors. We are especially grateful to American Printing Company who joined our efforts this year and provided complimentary graphic design services for all of our 2013 fundraising events at the monastery.
A complete list of our Prairie Rhapsody benefit concert sponsors includes:
Alliance Benefit Group
American Printing Company
Chocolaterie Stam
D.R.S. Ltd.
Meicher & Associates, LLP
Meuer Art & Picture Frame Co.
Phoenix Consulting
Gail and Dan Shea
Richard Wagner
Mary Zaborski, Merrill Lynch Green Bay
We hope to see you on Thursday, June 13, 2013! If you aren't free then but enjoy music at the monastery, please keep in mind that  Father Bob Koopmann, OSB is performing at Holy Wisdom Monastery on Sunday, July 21, 2013.