It has truly been a gift to welcome Nancy Melin and Linda Steg here as the first Benedictine Sojourners to participate in the ministries and life at Holy Wisdom Monastery. I have had opportunities to pray with them at daily prayer, worship with them at Sunday Assembly and interact during the workday at the monastery. It has been wonderful to have new faces and new energy here on a daily basis.
The sisters have been generous in subsidizing the costs of participants in Benedictine Sojourners by providing room and board, a monthly stipend, books for learning about monastic spirituality and the Rule of Benedict, and health insurance if needed. The room and board alone for a year totals about $12,000. It all adds up, but it's also necessary in order to meet the program's true goals, which are to give women community living skills and help them deepen their relationship with Christ so that they can take this experience back into their daily lives. It's exciting to have Nancy and Linda here, and it's also uplifting to hear that Sister Lynne Smith, our director of membership, has been in contact with several other women who are interested in participating in this ministry in 2013.
The Benedictine Life Foundation welcomes donations to directly support the Benedictine Sojourners ministry. If you are interested in making a tax-deductible donation to help cover the costs of participation in Benedictine Sojourners, please visit our Donate Now page on our website. You can also mail checks made out to the Benedictine Life Foundation to 4200 County Road M, Middleton WI 53562. Be sure to indicate Benedictine Sojourners in the memo section of the check! Your support for growing participation and appreciation of monastic life is appreciated and truly makes a difference in the lives of women interested in intensifying their commitment to our mission ofweaving prayer, hospitality, justice and care for the earth into a shared way of life as an ecumenical Benedictine community.
Nancy and Linda were also very generous with their time — and eye for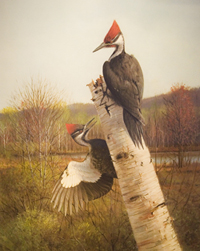 straight lines — in helping to hang the selection of Owen Gromme artist proofs that we have on display in the gathering area through November. None of us had hung much artwork before, but we are proud of the beauty it adds to the space. We are pleased to announce a reception to celebrate the collection of artist proofs that were donated to the sisters and that are now for sale. Please come visit us on Friday, October 26, 2012 from 5:00 pm to 7:00 pm to enjoy the artwork by Wisconsin native Owen Gromme, taste food prepared by our chef, Barbara Wright, and mingle with the sisters, Nancy and Linda. Learn more about our Owen Gromme collection.