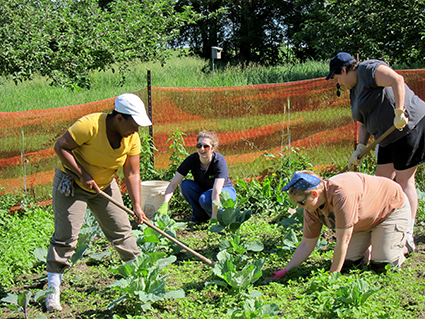 Four of the five Volunteers in Community work in the
vegetable garden. Much of the produce from this garden
ends up being served to guests at Holy Wisdom Monastery.
This month the sisters welcome five women as Volunteers in Community between June 10 and July 6, 2013. Noreen and Mary will be with us the entire month. Noreen comes from Princeton, New Jersey where she works in the area of media and marketing. She has participated in domestic and international missionary trips for her church. Noreen grew up on a farm in Michigan and has gardening experience to bring to her participation here.
Mary was born in Ireland and is a permanent resident in the US with her family in Loudon, Tennessee. She will be a junior at Emory University in Atlanta, Georgia in the fall majoring in religion. Mary has a special interest in art and photography and has offered to take photos or make a video of the experience while she is here.
Vicki is the minister of music and church administrator at a church in the St. Louis, Missouri area. She attended a retreat at Holy Wisdom Monastery in October 2012 and learned about the Volunteer in Community program at that time. Vicki is familiar with the Rule of Benedict and has visited other Benedictine monasteries. She will be here June 14-23, 2013.
Tara is a music teacher from Jasper, Texas. She has served as a church musician at churches of various denominations. Tara is enrolled in the Haden Institute (Ontario, Canada) Spiritual Direction Training Program. She will be here June 16-29, 2013 and is especially interested in learning about various types of prayer.
Tesha moved to Madison last year and has worked in the corporate world for twenty years. She is especially looking forward to the connection to the earth, being in community and the rhythm of life that the Volunteer in Community experience provides. She will be here June 24-July 6, 2013.
The Volunteers in Community will pray with the sisters, attend classes in centering prayer and lectio divina and work primarily in the garden and prairie. On evenings and weekends they have time to explore Madison, walk, read or enjoy other leisure activities.
Visit our website to learn more about the Volunteer in Community program or contact Sister Lynne Smith at lwsmith@benedictinewomen.org, 608-831-9305.