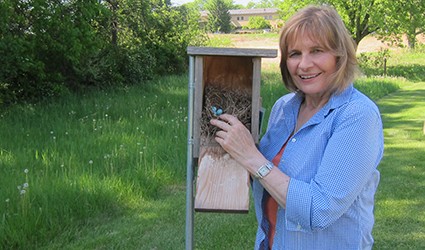 Karen Bate monitors the bluebird boxes at Holy Wisdom Monastery. 
Karen Bate has been caring for the bluebirds for 15 years. A Madison-native, Karen began coming here after the death of her daughter Robin. The bench at the top of the hill by the apple orchard is a memorial to Robin.
Paul Boutwell, monastery groundskeeper suggested Karen would enjoy caring for the 19 bluebird boxes located around the property. Karen quickly learned about bluebirds, their habits and predators and is a wealth of knowledge.
Before the bluebirds return from the south in March or April, Karen cleans the houses and checks them for damage. The houses are often inhabited by mice and other critters during the winter.
Once the bluebirds have returned, Karen monitors the houses weekly, recording the type of nest, number of eggs, number of hatchlings and the day the fledglings leave the nest. Sometimes a pair have a second brood and the adults wait until the fledglings leave the nest before flying off in July or August.
Unfortunately, it's not just bluebirds who like to nest in the houses. "The vigilant and ever present tree swallow inhabits about one-third of the boxes," explains Karen. Wrens, sparrows, and an occasional chickadee also like to call the boxes home.
On a recent walk with Karen to see some blue bluebird eggs up close, Karen opened the first box to find a very fancy nest created from feathers that had been built by wrens. Four tan eggs were in the nest. The next box that Karen opened found a sparrow nest with eggs. The third box yielded both happiness and sadness. A week earlier, Karen counted six bluebird eggs in this nest. The day we visited, there were only three, two of which had been pecked from the outside.
"I look for evidence of predation and often record losses of about a fourth of the eggs and young. The fiercest predator is the innocent looking house wren followed by raccoons, sparrows, blowflies, cats and snakes," Karen says.
"I get a thrill every time I see a bluebird nest. Days later, I may see anywhere between one to six blue eggs. Finally, after three weeks, when I open the box and the tiny beaks pop up, my mothering instincts click in and I begin to take partial responsibility for their well-being. It is very exciting to get a "bird's eye view" of the life cycle of the charming bluebird."
Volunteer at Holy Wisdom Monastery! Contact Jill Carlson, 608-836-1631, x108, or jcarlson@benedictinewomen.org if you can help.