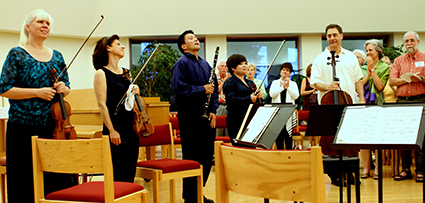 Members of Bach Dancing & Dynamite Society will return to Holy Wisdom Monastery in June 2014 for the Prairie Rhapsody benefit concert. Photo by Kent Sweitzer.
The Benedictine Life Foundation is pleased to offer the following events in 2014:
Sunday, March 16, 2014: Sister Simone Campbell returns to Holy Wisdom Monastery to deliver the homily during Sunday Assembly and a short presentation following worship.
Friday, May 2, 2014: Whisper art exhibit opening reception
Join us for an evening of poetry and photography, paired with food and community at the monastery as part of Gallery Night with the Madison Museum of Contemporary Art. The poetry and photography will be provided by local artists Gregory Bleck, Donna Carnes, Rolando Cruz, Laura Jacobson and Blair Mathews.
Thursday, May 22, 2014: Celebration of Sister Joanne Kollasch's 60 Years of Monastic Profession
We celebrate Sister Joanne's 60 years of monastic profession with an evening including prayer, food, an opportunity to toast Sister Joanne for all her years of ministry and a piano sing-along with Bob Koopmann, OSB. More information will be coming soon to our website. It will be helpful if you RSVP in advance to mikesb@benedictinewomen.org. Any donations made in Sister Joanne's honor will benefit the Wisdom Prairie Project.
Thursday, June 19, 2014: Prairie Rhapsody benefit concert with members of Bach Dancing & Dynamite Society
Join us for a lovely evening of chamber music with members of Bach Dancing & Dynamite Society. Co-directors Jeffrey Sykes and Stephanie Jutt bring their "chamber music with a bang" to Holy Wisdom Monastery for the second consecutive year, in exchange for a week of room, board and rehearsal space while they prepare for shows at other venues in the Madison area. All proceeds from ticket sales, silent auction items, and sponsorships of Prairie Rhapsody in 2014 will benefit the Wisdom Prairie Project.
Friday, October 3, 2014: Art exhibit opening reception
We are currently seeking proposals for artists interested in displaying their work in the gallery space at Holy Wisdom Monastery starting in October 2014. The deadline for submission is March 31, 2014 with more details here.
For more information about upcoming fundraising events or to learn about sponsorship opportunities, contact Mike Sweitzer-Beckman at mikesb@benedictinewomen.org, 608-836-1631, x124.