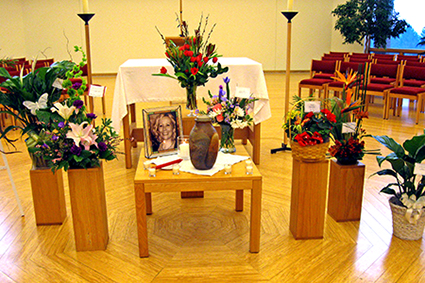 Remembering a loved one at Holy Wisdom Monastery.
When someone passes away, one of the biggest decisions the family has to make is how those left behind can express their condolences and remember their loved one. A memorial service is one of the more meaningful ways to bring family and friends together to pay tribute to the deceased.
Carolyn Moynihan Bradt, a Sunday Assembly member, held her husband Dr. Jack Bradt's memorial service at Holy Wisdom on April 7, 2013. "The monastery was perfect for Jack and our family. He is buried at the Farley Center, Natural Path Sanctuary in Verona. Both Holy Wisdom and the Farley Center honor the diversity and sacredness of the natural world and all creation," explained Carolyn. "Jack was a man who honored the earth and all creatures. He was nurturing and hospitable, making the world a better place. He honored beauty and community."
Carolyn and her family met with Jamie Dunbar, hospitality and event coordinator at Holy Wisdom Monastery, to discuss plans for Jack's service. "When I meet with family members I want to ensure that their requests are honored. This is a time for the family and friends to express their sadness at the death and also a time to celebrate the person's life," said Jamie. Jamie discusses details including if a visitation will be held prior to the service, the music choice, who will be officiating, equipment needs, if the family would like to hold a reception after the service and many other details.
"We loved the experience we had working with Jamie and creating a celebration of Jack's life," Carolyn said. "We were able to hold a visitation, a non-denominational, self-planned blessing that was moving to family and friends as well as colleagues and neighbors. Many said it was the most beautiful service they have ever attended.
"The simple beauty of the space and the options for personal choice of the service are good reasons for choosing the comforting hospitality of this green space, a treasure in our community. We are so blessed to have this wonderful place," Carolyn added.
Sister Lynne Smith, director of membership and a Presbyterian minister spoke about her preparation for presiding at memorial services for Sunday Assembly members. "I think about the person's life and also what the family is going through. I pray for the deceased and the family." Lynne meets with the family along with Jamie to learn more about the deceased such as their occupation, what family members and friends remember most about the person, if there are particular Bible scriptures that were special to the deceased and if there are specific things about the person that should be included in the service. "I want to learn what resonated with the person's life," Lynne explained.
Sometimes, the person who passed away has pre-planned their memorial service to ensure that things that were meaningful to them are included. "I've assisted some people who had just a few weeks to live," explained Jamie. "They wanted to make sure that their special music was played during the service and that specific people served as readers. They also wanted their favorite food served at the reception."
Memorial services can be held at Holy Wisdom Monastery for people of all faith backgrounds. The family does not have to be a member of Sunday Assembly to have the service here. Services can be Christian or meditation-focused, depending on what the family prefers.
Guests come to Holy Wisdom for many reasons and often learn about other ministries while here. Nancy and Jay Nelson attended a wedding at Holy Wisdom in 2012. "We were impressed with the emphasis on "green," said Nancy.  When Jay passed away earlier this year, Nancy decided that she wanted to hold his memorial service at Holy Wisdom.
"We were dealing with a really tough time in our lives and needed a place that accommodated a positive celebration and something non-traditional. We were greeted with wonderful support. Because of the support I have recommended this place to others."
Nancy worked with us to plan an indoor memorial service and an outdoor catered reception that was held on June 3, 2013. Over 300 people attended the service which was held in the assembly room, and reception which was held in the Lake Lawn area.
"The energy is so wonderful at Holy Wisdom as is the beauty, environment, helpful people and great space. The closeness to nature is one of the best aspects of this place," Nancy said.
Contact Jamie Dunbar at jdunbar@benedictinewomen.org, 608-836-1631, x100 to pre-plan or schedule a memorial service at Holy Wisdom Monastery.