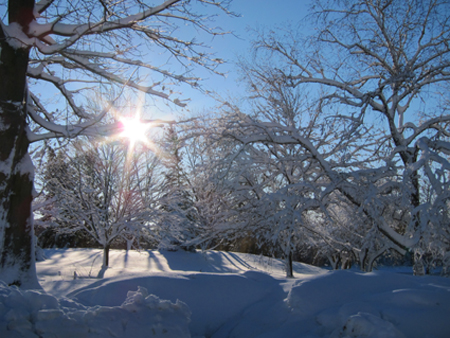 The love and appreciation for family, friends and community are central to the celebration of Christmas! For Benedictine Women community building is at the heart of our life and ministry. We are grateful for much growth in this ministry.
Sunday Assembly, an ecumenical worshipping community at Holy Wisdom Monastery, has doubled in three years since moving into our new monastery. A vibrant children's ministry led by parents is growing. Participation by Assembly members in social justice ministries such as Luke House, food pantries and Vera Court continues. This year a Social Justice Sunday was held with tables full of opportunities for involvement.
The Oblate community, an intentional ecumenical community of women and men, meets regularly for programs on Benedictine spirituality, retreats and opportunities for sharing their spiritual journeys. For the past three years the average number beginning their formation year has been twelve.
The newest opportunity at Holy Wisdom Monastery is the Benedictine Sojourners program. Single women live, pray and work with the sisters for six months to a year. Last August two women began their six month experience. Four are applying for next year. Sisters, coworkers and Sojourners agree it is an enriching experience for all.
Our summer program, Volunteer in Community, will begin its eighth year. Single women work with the sisters, coworkers and volunteers in their ministry of caring for the prairie and growing a vegetable garden. Past participants have come from New York, North Carolina, Canada, and the Midwest.
Lastly I name our donors as a community of supporters who believe in our values of prayer, hospitality, justice and care for the earth. We are blessed with the increasing number of people who share their gifts of time, talent and finances with us.
To all who touch our lives, we send our love and remember you in our prayers.
May God who loves us unconditionally lead us to peace.


Sister Mary David Walgenbach, OSB