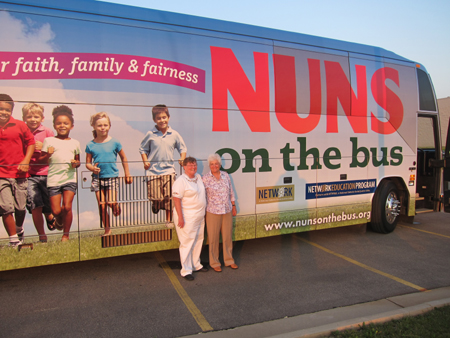 Mary David Walgenbach, OSB (right), prioress at Holy Wisdom Monastery, and Barbara Dannhausen, OP, a board member with the Benedictine Women of Madison, pose in front of the bus in Sinsinawa, Wisconsin in June 2012. One of the leaders of the Nuns on the Bus tour, Sister Simone Campbell, will be at Holy Wisdom Monastery in February and you're invited to come hear her speak.
You may have heard of Sister Simone Campbell, SSS. As the executive director of NETWORK, she was one of the leaders of the Nuns on the Bus tour this past summer, which took an active stance against US Congressman Paul Ryan's budget proposal. The bus tour highlighted the work that sisters do on the side of the impoverished in our society, and the sisters explained how the budget would negatively impact the lives of the people they serve. Sister Simone gained more notoriety when she was asked to speak at the Democratic National Convention in September 2012.
Holy Wisdom Monastery is pleased to partner with the Interfaith Coalition for Worker Justice of South Central Wisconsin (ICWJ –www.workerjustice.org) in hosting Sister Simone next month.
Sister Simone will provide a reflection at the Ash Wednesday liturgy at Holy Wisdom Monastery on Wednesday, February 13, 2013 at 3:30 pm, followed by a coffee time.  No RSVP is needed for the liturgy.
Sister Simone will also be the keynote speaker the following morning, February 14, at the Interfaith Coalition for Worker Justice's 13th annual Faith Labor Breakfast at Holy Wisdom Monastery from 8:00-10:00 am. The breakfast will be prepared by our monastery chef, Barbara Wright. The morning event, "In Faithful Pursuit of Justice: Workers, the Economy and The Soul of America," will be a chance to hear Sister Simone's reflections on pursuing economic justice from a faith perspective. Tickets to this annual event are $25 and can be purchased by contacting Rabbi Renee Bauer at the ICWJ atdirector@workerjustice.org or 608-255-0376. Space is limited, so register soon, as the event is expected to sell out.
We are honored to be in the presence of Sister Simone next month and hope you can join us.