"All guests are to be received with sincere hospitality, 'with the courtesy of love." – Rule of Benedict 53:1
Benedict of Nursia determined this rule in Italy over 1500 years ago, and it still rings true today at Holy Wisdom Monastery as we host groups of all faith backgrounds, school and business groups, medical and meditation groups, state government agencies and many other groups.
"If the group fits within the sisters' mission of prayer, hospitality, justice and care of the earth we welcome them," explained Sister Mary David Walgenbach.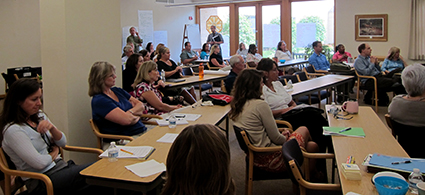 Group Health Cooperative meets in the sunny garden room
in the Retreat and Guest House, August 2012.
Many groups including the Episcopal Diocese of Milwaukee, Chodon Buddhists and Intervarsity Christian Fellowship reserve meeting space and guest rooms here several times per year and have been coming on retreat at Holy Wisdom for many years.
"One of the things we teach in our retreat is how hospitality is important to the life of the parish. Coming to Holy Wisdom where hospitality is embodied is very meaningful to us," said Gary Manning, of the Episcopal Diocese of Milwaukee. The organization sponsors the Diocesan Church Development Institute (DCDI) which is a congregational development teaching program focused on the ministry of developing the spiritual, community and organizational life of congregations.
"We work at developing self-awareness, personal leadership and engaging changing congregations, explained Peggy Bean, trainer with DCDI. "We equip participants with methods, skills, theories and self-awareness that teach how to intervene in faithfulness and health."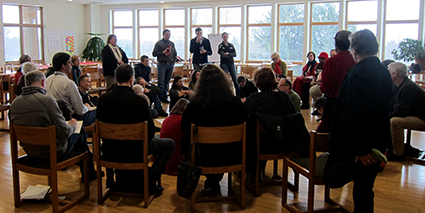 The Art of Hosting Meaningful Conversation group meets in
the monastery dining room, which overlooks the prairies
and Lake Mendota, March 2013.
Groups including the Snowflower Sangha Buddhists with 100 attendees and the Village of Natural Teaching with 30 attendees are here each year and reserve their space two or three years in advance to ensure they get the meeting and guest rooms that they need. The UW Health Mindfulness program uses the assembly room twice each year to bring speakers including former Trappist monk James Finley to present to over 100 attendees.
A group which started coming to Holy Wisdom in 2012, the Wisconsin Innovative Schools Network (WISN), has 30 attendees who travel from all over Wisconsin to attend. WISN is a grassroots network of educators to create and nurture innovative schools by supporting each other in developing high quality, research-based resources and strategies for both educators and students.
"The hospitality and convenience of holding a retreat or workshop at Holy Wisdom Monastery makes it an extremely pleasant experience," said Ingrid Beamsley, executive assistant for WISN.
Beamsley cited the available space, location and lunch capabilities as other reasons why WISN chooses Holy Wisdom for their board retreats and workshops.
Participants in group retreats fill out an evaluation at the end of the retreat so that the guest services team can learn what our guests feel we are doing well and also learn about where we need to improve. Guests tell us they are pleased with the hospitality shown them while they are here. They mention the ease of making their reservation, the cleanliness of the guest and meeting rooms, the room set-up, the quietness, the beauty of the prairie and the great food we serve as reasons to keep coming back for more Benedictine hospitality at Holy Wisdom.
Weekends at Holy Wisdom are quite popular and fill up fast, but weekdays are often available for group meetings and retreats. Contact Jamie Dunbar at jdunbar@benedictinewomen.org, 608-836-1631, x100  to learn about availability and to schedule your group at Holy Wisdom.