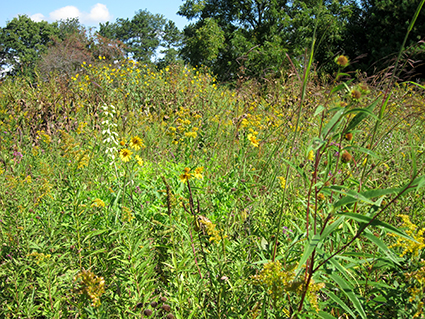 Come experience the sights, sounds and smells of the prairie at Holy Wisdom Monastery.
When I arrived at Holy Wisdom in August 2013, I was amazed at the variety of flowers in the prairie—purple, white, pink, orange, and so many different kinds of yellow! The beauty of the prairie flowers were a part of my morning walk from Bingen House to the monastery.
Then I noticed more each day with the passing of summer—the sweet, clean smell of the prairie! I hadn't realized that prairies "smell." Walking the trails through the tall grass had at first been just a visual delight, but now with the awareness of the scent of the prairie, I experienced the beauty of the prairie more deeply.
Finally, I HEARD the prairie. One day, while collecting rattlesnake master, cinquefoil and echinacea seeds, I walked deep into the grass on the North Prairie of Holy Wisdom Monastery. Although I was one of a group of volunteers collecting seed, we had all gone in different directions with our buckets, clippers and gloves. I was alone in the prairie, surrounded by the tall sweet grass. I paused to take in the moment and became aware of the SOUND of the prairie. Crickets! I heard the occasional lone cricket sound nearby, but what I became aware of was the symphony of chirping that was arising from the prairie. It washed over me.
Now I experience the prairie not only with my eyes, but with all my senses. I have learned its scent, its sound and its feel. And I am excited to know that the work of my hands in collecting seed will be used to restore even more prairie at Holy Wisdom.
Come experience the prairie at Holy Wisdom Monastery yourself. Hike one of the four nature trails; volunteer on the prairie or explore community life through the Volunteer in Community or Benedictine Sojourner experiences. For more information contact Sister Lynne Smith at lwsmith@benedictinewomen.org, 608-831-9305.