The Benedictine Women of Madison have a long tradition of welcoming others as Christ and encouraging their leadership. Sunday Assembly, which meets for worship at Holy Wisdom Monastery (HWM), grew out of the sisters' commitment to ecumenism but is primarily led each week by members of the assembly. This year, its Children's Ministry team asked itself, "What would children's faith formation within a monastic setting look like?" The answer that emerged integrates intergenerational learning, children's meditation and children's liturgy.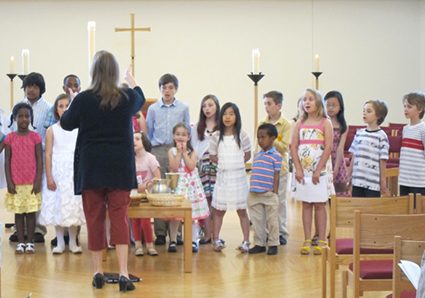 Children participating in a Sunday Assembly worship service.
This year the Children's Ministry team will offer several intergenerational events.
HWM's Oblate Community celebrates its 15th anniversary this year. Numbering nearly 200, from diverse backgrounds and faith practices, they not only share their lives and Benedictine spiritual practices but take on significant roles at the monastery. This year they will sponsor a retreat led by Reverend Rachel Srubas, an oblate of the Benedictine Sisters of Perpetual Adoration in Tucson, Arizona. "The Unfolding Self: Detours, Destinations and Discoveries Along the Way"(September 19-21, 2014) will explore conversion of life in the spiritual journey.
After discerning a need for adult spiritual formation, a broad representation of communities at HWM formed The Spiritual Deepening Council in 2013 to develop opportunities for spiritual growth grounded in Benedictine vision and values. This year they will co-sponsor several events at the monastery (learn more in the Going Deeper booklet). The first, August 15-17 2014, is a weekend with Andrew Harvey, an author, religious scholar and founder of the Institute for Sacred Activism. In September, Paul F. Knitter, an internationally known Christian theologian, and Paula C. Hirschboeck, a Zen Buddhist priest, will share interfaith stories about religious identity and practice in a multireligious world. In October, Beth O'Brien, an oblate of HWM who is a student of Rev. Cynthia Bourgeault, will lead "Placing Our Mind in Our Heart," an introductory Wisdom School at HWM.
In keeping with HWM's long tradition, all are welcome and encouraged to attend.
To learn more about community life and leadership at Holy Wisdom Monastery, contact Sister Lynne Smith at
lwsmith@benedictinewomen.org, 608-831-9305.