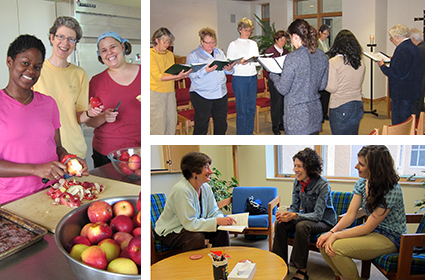 Community life balanced with prayer, work and study is lived out at Holy Wisdom Monastery in many ways.
Women and men began intentional communities centuries ago in the deserts of Egypt. They came to practice ascetical disciplines or to escape the overwhelming responsibilities of life. For many, living alone and facing their personal demons propelled them to come together for ideological support. These intentional communities began in the second and third centuries before the Christian era.
In her book, The Sayings of the Desert Fathers, Benedicta Ward cites the need for repentance for living a life of sinfulness and gives the example of a murderer who hid in the desert and came across a monastery. He asked for bread and a place to rest. He was moved to repentance for his crime and later joined the monastery. When the monastery was attacked by robbers, he offered his life to protect the other monks. Others joined a monastery for social mobility. Culture and family defined the boundaries of one's existence and everyone had a role to play that was determined by social class, gender and birth order.
The most frequent reason for joining a monastery was fulfilling a spiritual desire to live in a way not offered by society. This was especially true for women who felt called to a life of prayer and celibacy rather than marriage. It was also an opportunity for learning, caring for the sick and following one's star.
The intentional Christian monastic community of the Western world was begun by Benedict of Nursia who lived from 480 to 547. Fleeing the chaos of Rome, he too went into the desert for solitude and prayer. After living in a cave for three years, he was approached by other desert dwellers to leave his cave, become their leader and guide in their search for God. He agreed. At the end of his life, he wrote a rule for community living, a framework to help humans grow in goodness. He called this communal way a "school of the Lord's service" in which one could learn the trade or skill of discipleship as a Christian apprentice who desires to see, know and love God. Benedictine communities today still follow theRule of Benedict and find it relevant 1,500 years later.
Why do modern men and women join monasteries or become interested in various community movements in North America? One of the primary reasons is the desire for communal living. People want connections with others who are intentionally seeking a common purpose and are willing to live communally. For example, the peace and justice movement sees itself as resisting the powers of the world which create injustice and war. In the story of Thomas Merton, it is told that when meeting a young revolutionary in his last speech at Bangkok, the young man said, "We are monks too." This young man identified his intentional community with Merton's monastic community.
A more personal reason for living in an intentional community is the desire for a deep and rich spirituality following the scriptures of a specific world religion. There is a longing for close, transparent relationships and a deeper spiritual life.
In the 21st century, with an effort to end two wars, survive the second depression and with the widening gap between the rich and the poor, we, like our ancestors, are listening and straining to hear the new call of the desert in hopes of founding ways of peace, equality and living with diversity of cultures and religion. May the intentional communities of today continue to grow and share their gifts with the world.
If you are interested in exploring community life at Holy Wisdom Monastery, please contact Sister Lynne Smith at 608-831-9305 or
lwsmith
@benedictinewomen.org
.
*******
This article was originally printed in the May 2014 issue of Nature's Pathways. It has been modified for this publication.