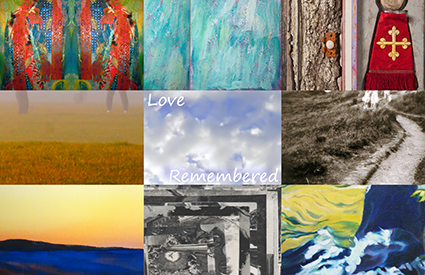 Image by Mark Nelson
This fall, we are pleased to welcome curator Lou Ann E. Petersen for the opening of the Love Remembered art exhibit on Friday, October 4, 2013 from 5:00-8:00 pm. All are welcome!
Lou Ann is a dear friend of the sisters. Her husband, Tom, was diagnosed with brain cancer in 2000 and they had a short time left together. They opted to spend a lot of that time at daily prayer with the sisters, walking the grounds at the monastery and enjoying meals with the sisters. Tom passed away in February 2000. After he passed away, Lou Ann had a bench dedicated in his honor on the monastery grounds on the west side of Lost Lake.
Fast forward over a decade later … Lou Ann has recruited a dozen other artists to join her in an exhibit called Love Remembered, scheduled to be on display from October 4 to November 27, 2013 (open for viewing Monday-Friday, 8:00 am to 4:30 pm when the monastery is open). The purpose of the exhibit is to remember loved ones we have lost. Our lives have all been affected by falling in love with partners or spouses and creating loving friendships with family and friends, only to have them interrupted by death. The hope is that this exhibit will create the space for reflection on this.
The artists participating in this exhibit include:
·         Carol Chase Bjerke
·         Karen Gomez
·         Jackie Hefty
·         Virginia Huber
·         Marian Kane
·         Helen Klebesadel
·         Linda Koenig
·         Linda Mathis
·         Mark Nelson
·         Lou Ann E. Petersen
·         Katherine K. Rogers
·         Beth Simmons
·         Gary Swanson
We hope you will join us for the opening reception on Friday, October 4, 2013 from 5:00 pm to 8:00 pm. The evening will include a reading by Rev. Cindy Crane and a flute performance by Finola Kane-Grades accompanied by William Beckstrand on the keyboard. The two will perform a piece that William composed named Beloved, honoring his sister Lisa, to whom the exhibit is dedicated. Lisa was a dear friend of several of the artists in this exhibit. And of course, the evening will include food prepared by our monastery chef, Barbara Wright. The opening reception will be part of Gallery Night, a program by the Madison Museum of Contemporary Art. I hope you can join us that evening, but if not, the exhibit is on display until November 27, 2013, while the monastery is open, Monday-Friday, 8:00 am to 4:30 pm.
You are also invited to join the sisters and Sunday Assembly worship community for Solemnity of All Saints and All Souls at 9:00 am worship on Sunday, November 3. At the end of the service, all worshippers are invited to light a candle and bring it to the altar in order to remember those special to us who have passed away. After worship, you are invited to enjoy and reflect on the Love Remembered exhibit in the gathering area.
This exhibit would not have been possible without the generous support of the sponsors for all our 2013 events, including Prairie Rhapsody in June:
·         Alliance Benefit Group
·         American Printing Company
·         Chocolaterie Stam
·         D.R.S. Ltd.
·         Meicher & Associates, LLP
·         Meuer Art & Picture Frame Co.
·         Phoenix Consulting
·         Gail and Dan Shea
·         Richard Wagner
·         Mary Zaborski, Merrill Lynch Green Bay
For more information contact Nancy Sandleback at nsandleback@benedictinewomen.org, 608-836-1631, x105.