Esther de Waal writes that the purpose of every Benedictine experience is to bring people together in community for mutual support on the spiritual journey, to teach them to live a balanced life and to enable participants to take their learning into their everyday life. This is what the Sojourner experience seeks to provide.
On August 15, 2012, Linda Steg and Nancy Melin arrived at Holy Wisdom Monastery as our first two Benedictine Sojourners. During their time here they entered fully into the life of the monastery sharing common prayer, meals, work, study and leisure with the community. The sisters provided classes on the spiritual life and Benedictine practices. Linda and Nancy gained skills for community living and offered their energy and time in the work of the monastery. We shared leisure time at the symphony, movies, dinner out, bike rides and more. This month, they both concluded their time with us and are making the transition back to their daily lives. Linda has moved to Cedar Park, Texas, to take a position as a traveling nurse. Nancy has returned to Champaign, IL, to continue her massage therapy and energy work practice.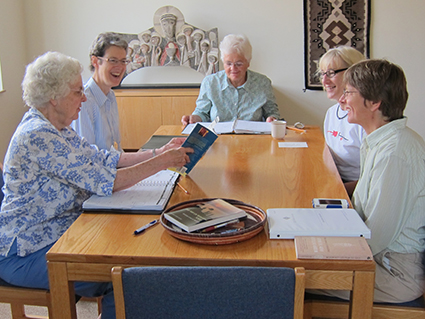 The sisters and Benedictine Sojourners (Nancy Melin on far right and Linda Steg next to Nancy) at a chapter meeting
reflecting on a spiritual reading.
From the Sojourners:
"I am very, very grateful for my time here. Thanks to the sisters for making this opportunity available. The tools that I've gained in my 6 months here include centering prayer, studying the Enneagram, lectio divina, reading the Rule of Benedict together. These are tools that will benefit me into the future in ways I don't even know yet. I have gained a lot in self awareness, in personal growth and spiritual growth. Some personal growth was painful, but through that work I gained a lot of healing. I'm a strong person for it.
"The sisters modeled monastic life and Benedictine values. Sunday Assembly filled my cup — it is a huge blessing to be in the company of those who share the love of Christ — a huge blessing that rejuvenated me. This space allows for and fosters spiritual growth. If you come open to growth you will get a lot out of this experience." – Nancy Melin
"I've most valued getting to know the community and spending time with them. The friendliness of people I met, their kindness was wonderful. Come if spirituality is important to you and you need community to make that a greater reality. If God opens the doors, come." – Linda Steg
The sisters are grateful for Linda and Nancy's presence with us as our first Benedictine Sojourners. We pray God's blessing on them as they move on to their next endeavors.
Trish Stefanik from Harper's Ferry, West Virginia, will begin her experience with us as a Benedictine Sojourner this March. Trish has been working with the Shalem Institute for Spiritual Formation in the Washington DC area and is a volunteer and member of Rolling Ridge Study Retreat Community. We look forward to receiving the gifts that Trish brings.
If you, or someone you know is interested in coming to Holy Wisdom Monastery for the Benedictine Sojourner program, contact me at lwsmith@benedictinewomen.org or 608-831-9305.